Lisa Page reveals FBI had no evidence of collusion for 'Russiagate' probe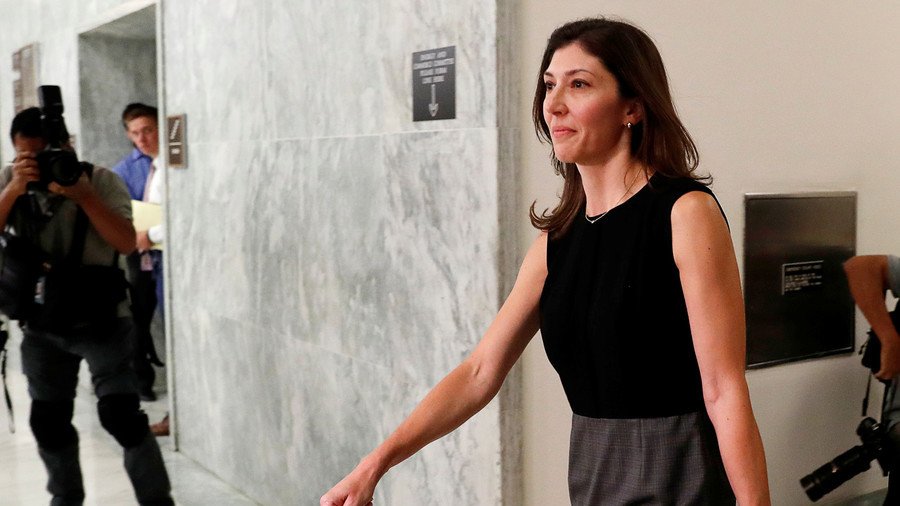 By the time special counsel Robert Mueller was appointed, the FBI had found no evidence of collusion between the Trump campaign and Russia during the 2016 US presidential election, according to agency lawyer Lisa Page.
Page told lawmakers that in May 2017, after a nine-month FBI investigation, and as Special Counsel Robert Mueller's 'Russiagate' investigation was kicking off, the agency still had no idea whether Donald Trump's presidential campaign actually colluded with Russia.
As far as May 2017, we still couldn't answer the question (of collusion)
Page told Republican Representative John Ratcliffe during the closed-door hearing in July, according to documents reviewed by Fox News and reported on Sunday.
Ratcliffe grilled Page over text messages she exchanged with since-fired FBI agent Peter Strzok, who was leading the agency's investigation into Trump's alleged collusion at the time. In the messages, Strzok debated joining Mueller's newly opened investigation, but expressed "concern" that there was "no big there there".
Ratcliffe asked Page whether the two believed that there was no collusion to investigate.
I don't think so...I think it's a reflection of us still not knowing… it still existed in the scope of possibility that there would be literally nothing
Page replied and then said that within the agency, nobody was ever sure if the alleged collusion actually existed.
"We all sort of went back and forth about like what -- what the answer was really going to be," she told the Republican lawmaker.
"Lisa Page left me with the impression, based on her own words, that the lead investigator of the Russian collusion case, Peter Strzok, had found no evidence of collusion after nearly a year," Ratcliffe told Fox News.
President Trump reacted with indignation, tweeting on Monday that "the case should never have been allowed to be brought." Trump called the case against his campaign "a totally illegal Witch Hunt," and "a conspiracy caught."
Page became a household name not for her sterling legal work with the FBI, but for a series of messages she exchanged with Strzok in the run-up to the 2016 election. Page and Strzok, a married man, had been having an affair; on top of the pillow talk, they talked openly about opposing Trump, while at the same time running an 'impartial' investigation into his campaign. In one conversation, Page and Strzok vowed to "stop" Trump becoming president, and spoke of a secret "insurance policy" against his election. In another exchange, Page called Trump a "loathsome human."
A June report by Department of Justice Inspector General Michael Horowitz found that Page and Strzok's text conversation was "not only indicative of a biased state of mind but, even more seriously, implies a willingness to take official action to impact the presidential candidate's electoral prospects."
All of this would be cause for concern if Page were a mid-level clerk in the agency, but she was a lead attorney on the FBI's investigation into Trump since 2016, and played a key role in helping transfer it to Mueller last year.
Page's revelation is a bombshell in part because the FBI had run an extensive counterintelligence operation for months leading up to Trump's election, codenamed 'Crossfire Hurricane.' Agents were dispatched to London to meet with contacts who allegedly knew about talk of collusion. FBI agents met with ex-British spy Christopher Steele, who promised them a now-infamous dossier of salacious and unverified allegations against Trump, which was eventually leaked to the media as well. Trump's campaign aides were surveilled, one was wiretapped, and an informant was placed in the Trump camp. And after all of this - no collusion.
Even former FBI director James Comey told the Senate after his firing that in May 2017, "we did not have an investigation focused on President Trump."
Deputy Attorney General Rod Rosenstein signed off on the Mueller probe anyway. One year later, and at a cost to the taxpayer of almost $20 million, Mueller has secured a handful of convictions, none of them related to Russia or the distant specter of 'collusion.' Most recently, former Trump campaign chairman Paul Manafort reached a plea bargain with Mueller last week, pleading guilty to two charges of conspiracy and obstruction, relating to his time lobbying for ousted Ukrainian president Viktor Yanukovych over a decade ago, and promising to cooperate with Mueller's probe.
Rosenstein's 'scope memo,' which outlines his rationale for opening the Mueller investigation and the investigation's boundaries, is still a secret. As the probe shifted from grasping at evidence of collusion to looking for obstruction, President Trump has accused Mueller and Democrats of allowing the inquiry to drag on in order to hurt Republicans in November's midterm elections.
Meanwhile, Trump's legal team has repeatedly promised that the probe is near its end. Rudy Giuliani, Trump's personal attorney, told reporters in August that Mueller would finish by September. Almost three weeks into September, the investigation - branded a politically motivated "witch hunt" by Trump - shows no signs of dying.
Think your friends would be interested? Share this story!
You can share this story on social media: