Hillary Clinton bashes Kavanaugh with debunked fake news claim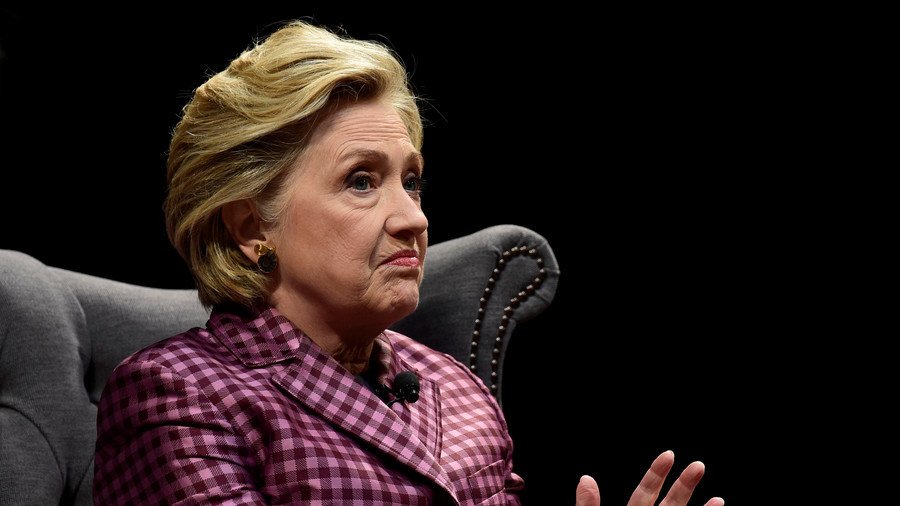 Hillary Clinton came out swinging against Supreme Court nominee Brett Kavanaugh, bashing the judge for his hardline statements against contraception. The problem: he never said them.
Kavanaugh's confirmation hearings dragged on over three bitter days last week, as Democrats took the judge to task over his opinions on abortion, gun rights, affirmative action, and the president's executive authority.
One encounter in particular drew Clinton's attention. While being questioned by Sen. Ted Cruz (R-Texas), Kavanaugh appeared to refer to birth control pills as "abortion-inducing drugs." A video of the encounter was shared by Democratic Rep. Kamala Harris, who described Kavanaugh's comparison as "a dog whistle for going after birth control," the term 'dog whistle' being a nonsensical 'woke' liberal term for covertly signalling support for extreme views.
Clinton pounced on Wednesday, describing in a six-tweet rant how Kavanaugh was dog-whistling to the "extreme right," how he "misunderstands the basic science of birth control," and how "safe and legal abortion isn't the only fundamental reproductive right at grave risk if he is confirmed."
I want to be sure we're all clear about something that Brett Kavanaugh said in his confirmation hearings last week. He referred to birth-control pills as "abortion-inducing drugs." That set off a lot of alarm bells for me, and it should for you, too.

— Hillary Clinton (@HillaryClinton) September 12, 2018
"Imagine an America," she wrote, "in which women are barred from getting IUDs or birth control pills, and doctors are criminalized for prescribing them. It's an America in which women would be punished for insisting on being full and equal partners in society."
All of that would cause concern, if any of it were true. Harris' video, seen below, was deceptively edited. Rather than describing his own views, Kavanaugh was describing the views of a Catholic anti-abortion group, Priests for Life, in a case where the group argued Catholic healthcare providers shouldn't be mandated to provide contraception based on their religious beliefs. Some of these methods of contraception, the priests believe, constitute "abortion-inducing drugs."
Kavanaugh chooses his words very carefully, and this is a dog whistle for going after birth control. He was nominated for the purpose of taking away a woman's constitutionally protected right to make her own health care decisions. Make no mistake - this is about punishing women. pic.twitter.com/zkBjXzIvQI

— Kamala Harris (@SenKamalaHarris) September 7, 2018
"They said filling out the form would make them complicit in the provision of the abortion-inducing drugs that they, as a religious matter, objected to," Kavanaugh explained to Cruz. Harris' video left out the crucial words "they said."
Before Clinton referenced it, Harris' video was already debunked by Politifact, and slammed by Republican Senator Orrin Hatch (Utah).
I want to be sure we're all clear: this didn't happen. Numerous fact-checks have ruled this false and the Washington Post gave it 4 Pinocchios.https://t.co/fHNeKc5ysL

— Senator Hatch Office (@senorrinhatch) September 12, 2018
Kavanaugh himself addressed the same question again in his written answers to senators' questions, completed on Wednesday. "That was the position of the plaintiffs in that case, and I was accurately describing the plaintiffs' position," he wrote. "I was not expressing an opinion."
Nevertheless, Hillary Clinton's polemic tweet earned her over 35,000 retweets, almost 120,000 likes, and placed her in the Kavanaugh #resistance hall of fame, alongside the woman who yelled "this is an illegal hearing," last Wednesday, and the others who donned red and white 'Handmaid's Tale' costumes – a woke favorite – to take a cliched stand for women's rights.
READ MORE: Paid protesters at Kavanaugh hearings? Twitter abuzz after photo shows activist receiving cash
The fight to confirm Kavanaugh has been a brutal one, with Democrats bitterly opposed to his nomination. His predecessor, Justice Anthony Kennedy was widely considered a moderate and a swing vote, siding with the court's four liberals or four conservatives depending on the case at hand. If successfully appointed, Kavanaugh could tip the balance of the court to the right for years to come.
Protesters disrupted every day of Kavanaugh's hearings last week, and over 200 were arrested. Republicans hold a wire-thin 50-49 majority in the senate, down from 51-49 after the recent death of Arizona Senator John McCain left one seat vacant. To block Kavanaugh's confirmation, Senate Democrats will need to vote unanimously, and secure the vote of one Republican, or two if Arizona governor Doug Ducey (R) appoints a new senator before the vote. If the vote comes down to a tie, Vice President Mike Pence would vote to break the deadlock.
The Senate looks likely to vote on Kavanaugh next week.
Subscribe to RT newsletter to get stories the mainstream media won't tell you.
You can share this story on social media: