The eagle has landed: National symbol joins 9/11 commemoration, crowd goes wild (VIDEO)
Published time: 12 Sep, 2018 12:35
Edited time: 13 Sep, 2018 14:04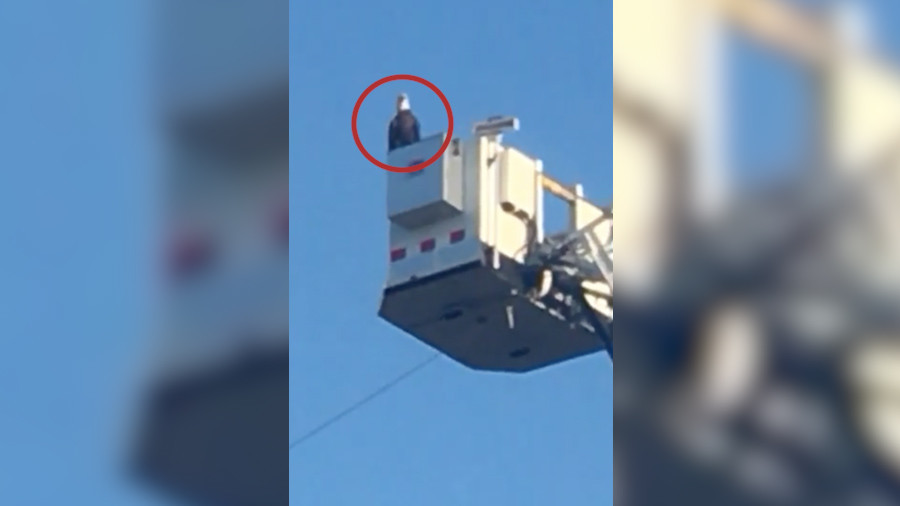 As the US marked the 17th anniversary of the 9/11 attacks on the World Trade Center which claimed the lives of more than 3,000 people, one commemoration ceremony had a surprisingly patriotic and unexpected guest.
The Andover Fire Department, based in Coon Rapids, Minnesota, 15 miles north of the state capital Minneapolis, used a cable suspended between two fully extended fire truck ladders to hoist a massive American flag over a freeway packed with passing cars, honking in salute of the first responders who died during the attacks on September 11, 2001 in New York.
The department's chief Jerry Streich captured the exact moment the bald eagle landed atop the fire truck's tumescent ladder. First responders and passersby lining the freeway overpass gasped in astonishment as the national symbol graced them with its presence.
"Isn't that unbelievable?" Streich says in amazement. "This eagle just landed on the aerial, while we're doing the 9/11 memorial. Phenomenal."
"There's no better symbol to represent America today than a flag – but then for an eagle to land on a fire truck holding a flag," the fire chief said. "I mean, it doesn't get much more symbolic than that."
"I have chills watching this," one commenter wrote on the video, which has accrued more than 2.4 million views since it was published on Facebook Tuesday.
Many among the over 21,000 comments on the video, attributed the scene to divine intervention: "That has to be a sign from above! Just like day after my Mom died a bird landed on our skylight and looked right down at me! Mom loved birds!" wrote one user.
"Maybe a little God wink from above for our Nation!!!" wrote another.
Others believed the bald eagle was aware of how solemn the day was and how it might be able to provide a lift to those in mourning: "He is making the rounds. He knows people need this today. This is awesome "
The bald eagle was first chosen as the official emblem of the US in 1782.
Like this story? Share it with a friend!