'But why would he go?' Twitter storm over Trump's golfing during McCain funeral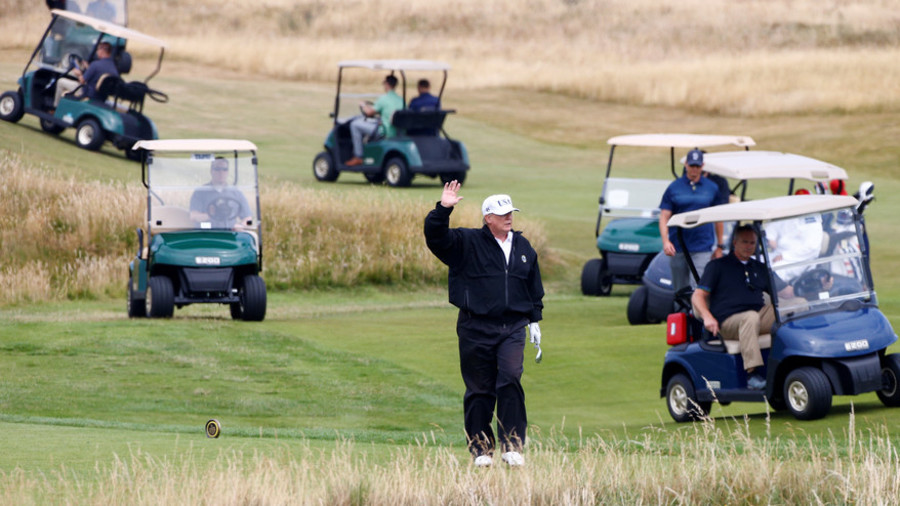 President Donald Trump, who was not invited to Senator John McCain's funeral, hit the golf course during the memorial service, causing a social media storm in the process.
Just as Barack Obama, George Bush and Bill Clinton came together to laud the late Arizonan senator, the notably absent president hit up a golf course in Virginia. What's more, to the outrage of McCain supporters, Trump started tweeting about a dispute with Canada about the North American Free Trade Agreement (NAFTA) during the Arizona senator's memorial.
"There is no political necessity to keep Canada in the new NAFTA deal," he wrote. "If we don't make a fair deal for the US after decades of abuse, Canada will be out. Congress should not interfere w/ these negotiations or I will simply terminate NAFTA entirely & we will be far better off..."
Shortly after, Trump followed up with "Remember, NAFTA was one of the WORST Trade Deals ever made. The US lost thousands of businesses and millions of jobs."
Twitter was quick to point out the contrast between the solemn day that the president was apparently ignoring, and the leisurely plans he had. "Washington Mourned John McCain. President Trump Played Golf," one user posted. "While presidents Obama, Clinton, and Bush gathered to honor John McCain, Trump spent the day at his golf course," another user said.
READ MORE: MSM one step away from McCain myth-making – well, you can learn from Lenin classic!
"...What does it tell you about yourself when you are specifically not invited to funerals?" another asked.
Others took the time to point out that the backlash over the president's golf game was just an "opportunity to bash America and its leader," and Trump should "stay strong." Another was more direct, calling for the US leader's naysayers to "rot in hell."
Some wondered why, despite the lack of an invitation, the president would attend an event that turned into a Trump-bashing session. "Why would he go he was told he wasn't wanted there?" a Twitter user asked.
Instead of Trump attending McCain's funeral, his daughter Ivanka Trump and her husband, Jared Kushner attended the service in the president's stead – drawing even more anger from the crowds, as Ivanka was caught apparently texting during the memorial.
READ MORE: 'Biggest fan': Bill Clinton trolled for 'ogling' pop star Ariana Grande at funeral
Think your friends would be interested? Share this story!