'Biggest fan': Bill Clinton trolled for 'ogling' pop star Ariana Grande at funeral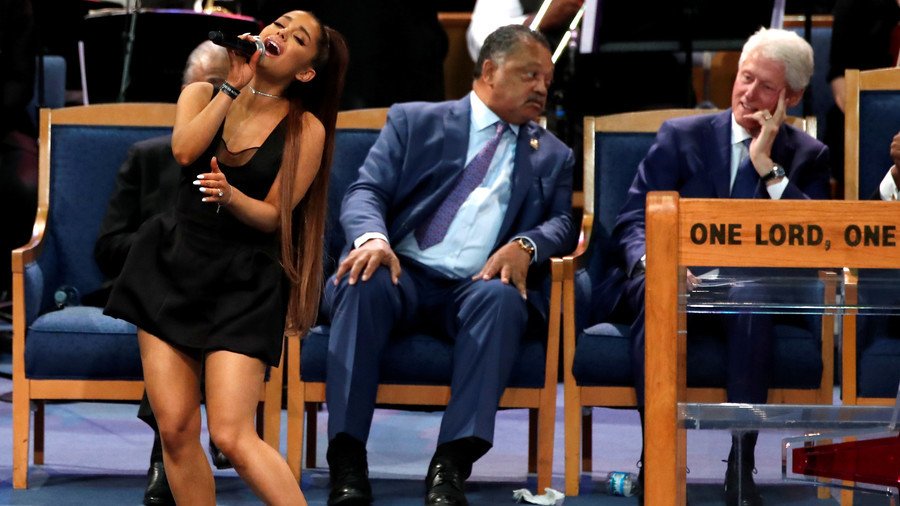 Former US President Bill Clinton was slammed and ridiculed on social media after he was caught seemingly mesmerized by pop singer Ariana Grande's performance during soul legend Aretha Franklin's funeral in Detroit.
The 25-year-old singer, donning a short black dress and high-heeled shoes, took the stage on Friday for a rendition of Franklin's hit single '(You Make Me Feel Like) A Natural Woman.' Clinton seated right behind Grande, was captured looking hypnotized by the former Nickelodeon star's performance.
Some users on social media poked fun at Clinton for 'ogling' the singer and even 'undressing' Grande with his eyes, suggesting that she had 'brought him back to life.'
Others found the whole situation "uncomfortable," calling the ex-president's fascination with Grande "gross" and "creepy." Commenters also argued that Clinton's reaction was inappropriate, since Grande was honoring the late soul legend Aretha Franklin, who had passed away on August 16. Others pointed out that Hillary Clinton was also present at the event.
Some, however, came to Clinton's defense, suggesting that the apparent 'ogling' is just his usual 'look.'
Think your friends would be interested? Share this story!
You can share this story on social media: