Pentagon seeking contractors to train Saudi pilots on US soil amid bloody Yemen air campaign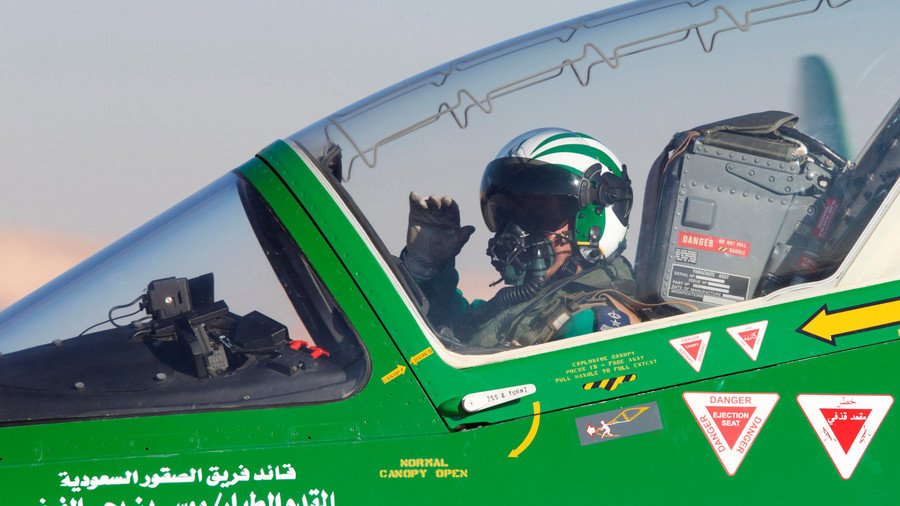 The Pentagon plans to hire private contractors to train Saudi military pilots on US soil, documents show. Human Rights Watch (HRW) called the move disturbing amid outcry over US involvement in Saudi Arabia's air campaign in Yemen.
The US Air Force is currently soliciting private contractors for training Royal Saudi Air Force (RSAF) personnel, the federal documents reveal. Conveniently, contractors interested in providing their expertise to Saudi pilots won't have to relocate to the Middle East as all training will be "conducted in the US at contractor's facility," the government solicitation states.
READ MORE: Saudi-led strike in Yemeni city of Hodeidah kills at least 26, mostly children – local media
The training will include instructions for the US-made F-15 fighter jet, which the Saudis are currently using in Yemen. The deadline to bid on the government contract is September 24, but it's not clear when the US-based training program is scheduled to begin.
The training program would mark a new chapter in US logistical support for the Saudi-led invasion of Yemen, raising the ire of human rights activists concerned over the rising death toll in a conflict which has left thousands of civilians dead including many children.
US Defense Secretary James Mattis warned Saudi Arabia earlier this week that support for the Saudi-led coalition in Yemen is "not unconditional" and urged them to take greater care to avoid civilian casualties. Despite Mattis' warning, the government solicitation for training RSAF pilots was posted two weeks after a Saudi-led coalition airstrike killed 40 children.
Saudi pilots are already hitting targets very precisely--just the wrong ones, such as school buses, hospitals, markets and funerals--but Pentagon now wants to train those pilots on US soil. https://t.co/ZmUBKMhP4q

— Kenneth Roth (@KenRoth) August 31, 2018
Informed about the training program, Sarah Leah Whitson, executive director for HRW's Middle East and North Africa Division, told journalist Ken Klippenstein, "At a time when even the Pentagon has threatened to cut military and intelligence [support] for Saudi's disastrous campaign in Yemen, it's disturbing that the Air Force is ratcheting up its relationship by training more Saudi pilots, however veiled by the use of contractors."
The United States is Saudi Arabia's largest weapons supplier, and the US military has provided intelligence and logistical support for the bombing campaign against Yemen. As consequence, Washington has tiptoed around a humanitarian crisis that has left more than 20 million Yemenis dependent on humanitarian aid and some 8 million on the verge of starvation – not to mention the more than 1 million suspected cases of cholera.
Saudi Arabia and its allies launched their first airstrikes against Houthi rebels in Yemen in March 2015, in an attempt to bring deposed President Mansour Hadi back to power. Since then more than 5,500 civilians have been killed and over 9,000 injured, according to UN estimates.
Like this story? Share it with a friend!
You can share this story on social media: