US may leave WTO if they don't 'shape up' – Trump to Bloomberg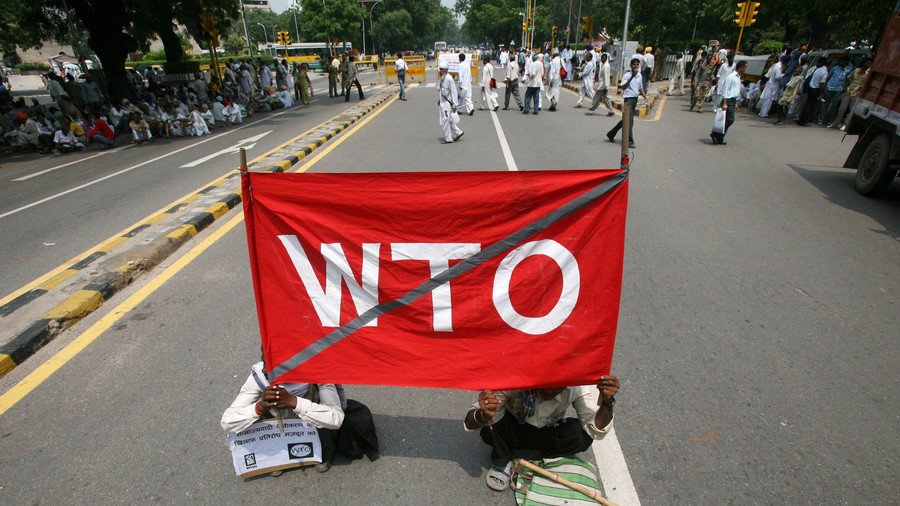 US President Donald Trump would consider pulling out of the World Trade Organization if "they don't shape up," he told Bloomberg in an interview.
"If they don't shape up, I would withdraw from the WTO," Trump said on Thursday at the White House, before departing for a rally in Indiana.
Last month, the US president told reporters that the WTO has treated the US "very badly" for many years, and that the Geneva-based body will need to "change their ways."
US Trade Representative Robert Lighthizer has called allowing China into the WTO a mistake and accused the trade body's dispute settlement system of interfering with US sovereignty. The Trump administration has recently blocked the appointment of judges to the WTO's appeals body.
On Wednesday, Washington filed a complaint with the WTO against Russia's retaliatory tariffs, which were a response to Trump's steel and aluminum duties imposed earlier this year.
READ MORE: Trump calls WTO a 'catastrophe', says US losing out and needs new deal
In the wide-ranging interview, Trump also said he likes and respects Federal Reserve chairman Jerome Powell, despite publicly disagreeing with the Fed's recent interest rate increases. The Fed has raised rates five times since Trump's inauguration, and there is talk of two more increases this year.
Trump said the Fed should be helping the government in trade disputes with China, the EU and others, just as their central banks are helping their governments.
"We are not being accommodated," he said. "I don't like that."
Trump is also "thinking about" indexing capital gains to inflation, believes the EU proposal to eliminate auto tariffs is "not good enough," and said he is not considering firing Attorney General Jeff Sessions - at least not until after the November midterm elections.
"I just would love to have him do a great job," Trump said about Sessions., according to Bloomberg.
Think your friends would be interested? Share this story!
You can share this story on social media: