Rudy Giuliani's strange journey into Romanian politics (with some personal interest)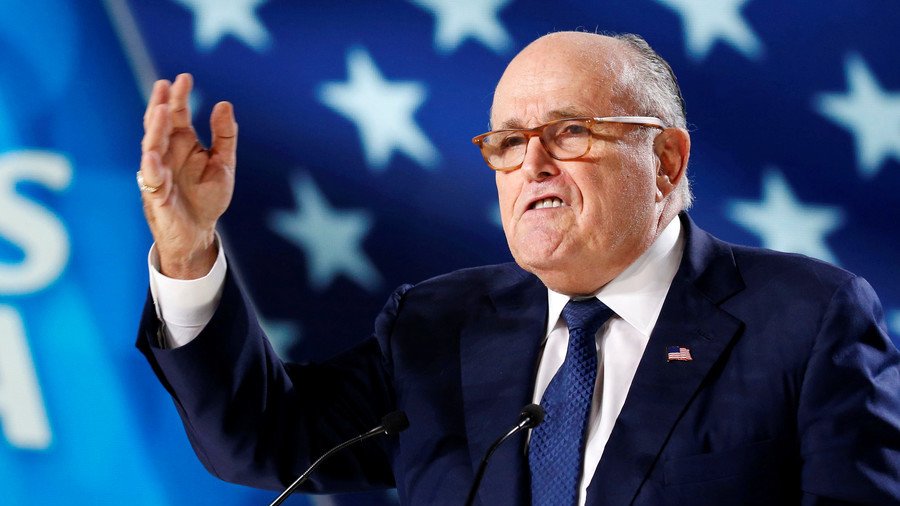 While the US State Department is well versed in the unsubtle art of telling foreign leaders what to do, Attorney to President Donald Trump Rudy Giuliani's foray into another country's domestic affairs is a peculiar first.
The former New York mayor has decided to wade in to Romanian domestic politics, urging President Klaus Iohannis to rein in an ongoing and popular anti-corruption drive.
The Romanian government is currently wrestling with the National Anticorruption Directorate (DNA), an agency that operates independently from government. The DNA has prosecuted several high-ranking political figures in Romania, including Liviu Dragnea, leader of the ruling Social Democrat Party. Dragnea was sentenced to three and a half years in prison this June for inciting others to abuse power. His decision to appeal the verdict, and his refusal to step down from office, caused widespread protests.
Now, Giuliani appears to be siding with an unpopular government on the receiving end of the corruption probe.
In a letter, dated August 22, but published in Romanian media on Monday, Giuliani expressed his concern at "continued damage to the rule of law...committed under the guise of effective law enforcement." Giuliani called for an amnesty to be granted to those prosecuted under the anti-corruption drive, for Iohannis' government to rein in the DNA, and for an independent investigation of so-called "secret protocols" signed by Romanian judicial institutions with the Romanian Intelligence Service (SRI). No big deal.
Giuliani accused the DNA of intimidating judges, lawyers, and witnesses, illegal wiretapping, and extracting "forced confessions" from suspects. He added that the government must now "make it clear that it remains committed to due process, transparency, and the rule of law." Wielding next to no diplomatic clout, Giuliani made vague threats to Romania's economy instead. Failing to stop corruption, he warned, would "directly and negatively" affect the flow of foreign investment into Romania.
In siding with Iohannis, Giuliani directly contradicts the US State Department's position. The State Department encouraged the directorate's work, and a spokesman told The Guardian "Romania until recently has shown considerable progress in combating corruption and building effective rule of law. We encourage Romanians to continue on this path."
He also puts himself at odds with large sectors of the Romanian public, who rioted in the streets when Iohannis fired Laura Codruta Kovesi, director of the DNA, last month.
Everything fell into place on Tuesday, when it was revealed that Giuliani acted not out of a deep-seated interest in Romanian affairs, or a love for hunted politicians, but because he was paid to. The Trump attorney told Politico that he wrote the letter after reading a report by former FBI Director Louis Freeh, who now runs a global consulting firm called Freeh Group International Solutions. "They are paying my fee," Giuliani said. Until Tuesday, Giuliani had kept quiet about his letter's sponsor. It is still unknown who Freeh group was representing.
Predictably, this angered Romanians, who took to Twitter to vent at the attorney first for meddling in their affairs, and then for doing it on behalf of a paying client.
@RudyGiuliani Disappointing attitude being not well informed towards anti-corruption fight in Romania, by signing (locally conceived?)letter which disqualifies you in front of many Romanians.

— Ciprian Nanu (@CiprianNanu) August 28, 2018
@RudyGiuliani So it's not enough for you to attack and weaken the rule of law in America, you have to destroy it in Romania as well? How can you use your influence to aide former communists escape justice and destroy democracy in my country? For what? lobbying money?

— Ioan-Radu Tanasescu (@radutanasescu) August 27, 2018
@RudyGiuliani, can you confirm that you actually wrote a letter to @KlausIohannis? If it's true, you are, Sir, deeply misinformed about what's happening in Romania. Don't side with crooks, you are better than that.

— Sebastian Burduja (@Tianu) August 28, 2018
Romania's ambassador to the US, George Maior, was similarly displeased, and said that Giuliani was "defending people who have problems with the justice system." Maior's remark earned him a stern rebuke from the Romanian foreign ministry, and he was recalled to Bucharest to explain himself.
The Foreign Ministry said that Maior, whom Giuliani accused in his letter of working to undermine the Romanian government, deviated from his role, which is to "promote national interest" abroad. The ministry also assured Romania's international partners that the government - four of whose members have been convicted of corruption offenses this year so far - is doing more than enough to combat the "phenomenon of corruption."
Romania is one of Europe's most corrupt countries, according to Transparency International. Despite the allegations in Giuliani's letter and from the Romanian government, the DNA has enjoyed widespread public support since its establishment in 2002. 59 percent of Romanians trust the institution, while only 22 percent trust the government, and 8 percent trust political parties.
While Giuliani's surprise letter has focused the spotlight on Romania, the American embassy in Bucharest has been keen to downplay its significance. The embassy declined to comment on what it said were "the views or conclusions of private US citizens," and stuck by its position that Romania should "avoid changes that would weaken the rule of law or Romania's ability to fight crime or corruption."
Shortly after Trump's election, Giuliani was hotly tipped for Secretary of State, a role that eventually went to Rex Tillerson, and then Mike Pompeo. Presumably, foreign adventures like this now let the attorney live out that fantasy in his own way.
Like this story? Share it with a friend!
You can share this story on social media: