NATO mulls naming Brussels HQ after John McCain who "embodied its values"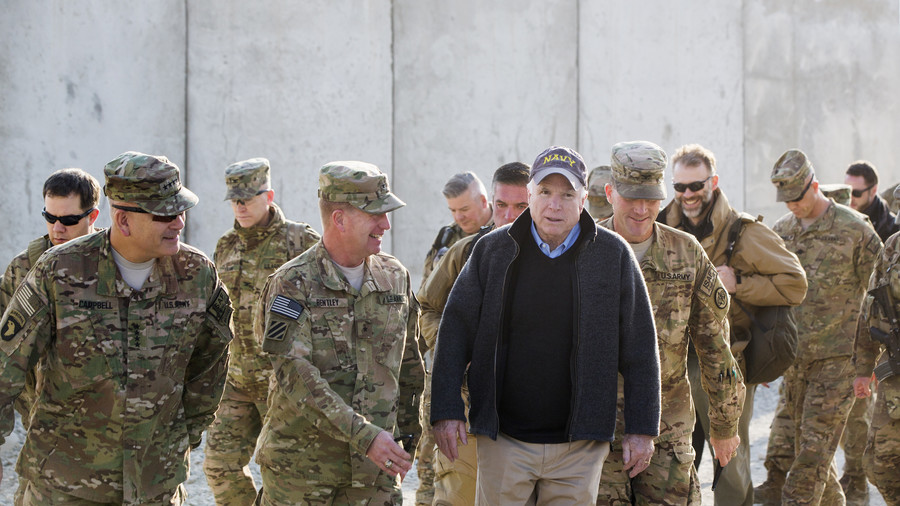 Nothing would embody NATO's values and ideals more than naming its new billion-dollar headquarters in Brussels after the late US senator – and outspoken warmonger – John McCain, said the official who made the proposal.
In a letter to NATO suggesting that the building be named after McCain, one of the senator's British fans, Conservative MP Tom Tugendhat, noted that "very few people embodied the values that NATO is built on" in the way McCain did and said there would be "no more fitting tribute" to his career and life than to have the military alliance's building named in his honor, CNN reported.
Indeed, given McCain's impressive record of support for the military organization, its continued expansion across Europe and all its various military interventions around the world, the potential naming of the new building after him does seem rather appropriate.
Since his death last week, McCain has been lauded by colleagues and journalists alike as a great American statesmen who was committed to human rights and justice at home and abroad — but his critics have been quick to note that McCain was perhaps one of the US Senate's biggest war hawks and that his legacy is not entirely one of greatness.
McCain's support for US militarism was no more obvious than when weapons manufacturer Lockheed Martin released a touching tribute to him on Twitter following his death.
Tugendhat also wrote that there would be "no better message for NATO to send" to the world "at this time of global tension" than to name the building after the late senator.
While some on Twitter reacted to the news with delight, suggesting that naming the building after McCain would be a good way to annoy US President Donald Trump, others were more sarcastic, suggesting it might be appropriate to name a nuclear missile after the senator.
NATO spokesperson Oana Lungescu said that Tugendhat's request had been received by NATO Secretary General Jens Stoltenberg and would be "considered carefully".
There have also been calls in recent days to have the Russell Senate Office building on Capitol Hill in Washington renamed after McCain.
While some support the idea, partly due to the fact that the building's current namesake, the late Georgia Senator Richard Russell, was a segregationist Democrat, others are not too keen on giving the posthumous honor to McCain — perhaps because Trump did not like McCain and therefore few are willing to irk the president by supporting a name change.
In what some on Twitter suggested was an attempt by Google to "troll" Trump after he accused the social media giant of rigging search results against him, Google Maps displayed the Russell Senate Office Building as the "McCain Senate Office Building" for a brief period on Wednesday.