Pence vows US will regain manned space flight capability 'very soon' & reconquer Moon by 2024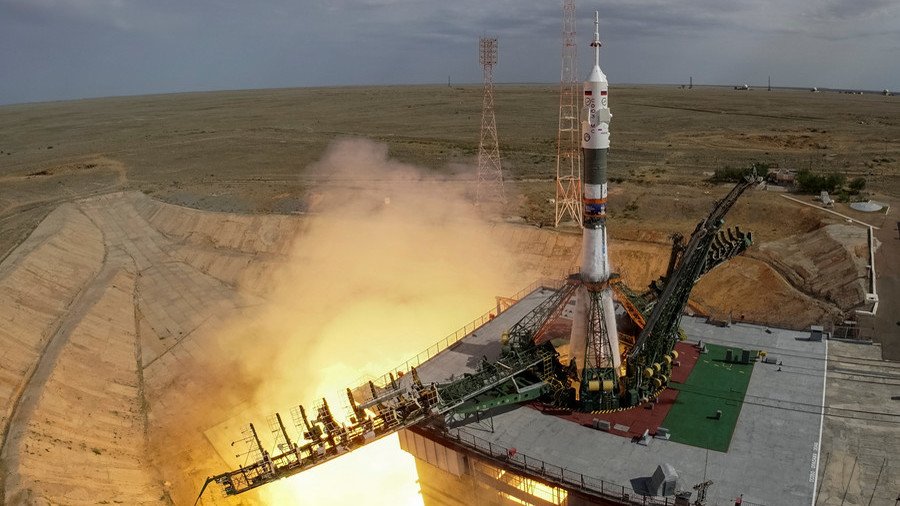 The US will soon rid itself of its embarrassing and costly reliance on Russian space rockets, vice president Pence has promised, painting an idyllic future where private enterprises will be taking Americans to the moon and beyond.
Regretting that US astronauts were "forced to hitch a ride to space" ever since NASA's Space Shuttle program retired in 2011, Mike Pence promised to end America's somewhat embarrassing reliance on Soyuz rockets. Noting that each seat onboard a Russian capsule costs about $82 million, the vice president proclaimed "those days are about to be over."
"I'm going to make you a promise: Soon, and very soon, American astronauts will return to space on American rockets launched from American soil," Pence said while he and NASA administrator, Jim Bridenstine, visited the Johnson Space Center on Thursday.
NASA has been working for years with its commercial partners SpaceX and Boeing to develop crew transportation systems, CST-100 Starliner and Crew Dragon 2, both of which the US space agency rather optimistically hopes to certify and render 'operational' next year.
"The most recent cost for a single seat on Russia's Soyuz spacecraft was roughly $81 million and NASA estimated that it would pay its commercial providers SpaceX and Boeing approximately $58 million once their vehicles become operational in late 2019," NASA's Management and Utilization of the ISS report states.
But saving costs of low orbit flights are just part of US cosmic ambitions in outer space. Recalling that Donald Trump already allocated "historic funding for NASA," Pence promised the crowd of space enthusiasts that "America will lead mankind to the stars once again," by building a Moon colony in 2024, all while ambitiously pioneering Mars.
"We're working with the Congress to provide an unprecedented $500 million to move the Lunar Orbital Platform from proposal to production. We're only a few short years away from launching the gateway's first building blocks into space, turning science fiction into science fact," Pence said.
The US second-in-command did not forget to stress that the US must also maintain its military 'superiority' in space to tackle a perceived threat from China and Russia.
"China is aggressively weaponizing space. Russia, too, is developing and testing new and dangerous weapons and technologies to counter America's space capabilities," Pence claimed, stressing that the administration is "committed to keep America ahead of our adversaries in this critical domain."
However, Pence's big plans for space will face a large logistical hurdle: the United States currently has no domestic rocket program that can send human crews into orbit.
America's civilian space agency, NASA, discontinued its space shuttle program in 2011, leaving the Russian Soyuz as the only class of spaceships capable of delivering people to the International Space Station (ISS).
Even the private sector now looks to Russian technology. United Launch Alliance (ULA), a joint venture between Lockheed Martin and Boeing, relies on Russian rocket engines for their Atlas launchers. Moscow has threatened to embargo the delivery of these in retaliation against the newest US-imposed sanctions.
Think your friends would be interested? Share this story!
You can share this story on social media: