Nationwide US prison strike demands end to 'slave labor' & 'racist' sentencing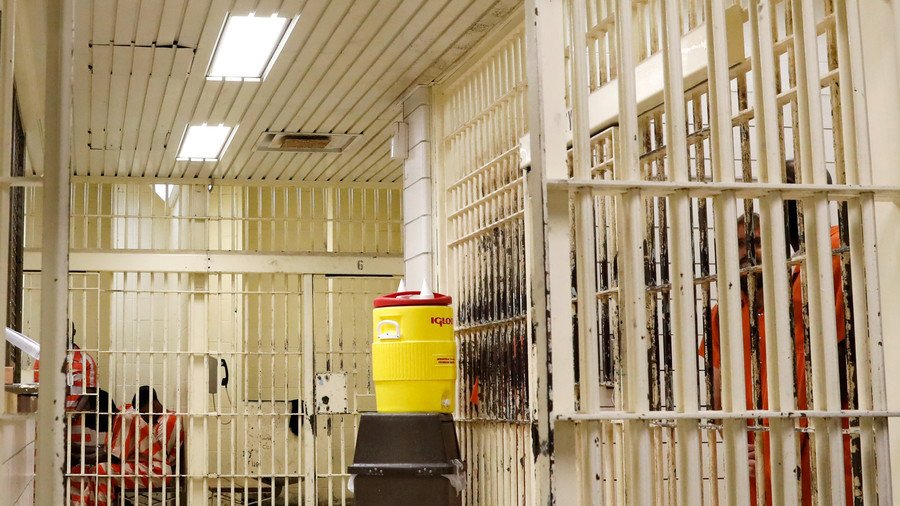 Inmates across several US states are launching a three-week prison strike, protesting what they call racist sentencing laws, inhumane conditions, and lack of pay for prison labor that amounts to slavery.
Spearheaded by a group of prisoner activists called Jailhouse Lawyers Speak, the strike is supposed to take form of civil disobedience from August 21 to September 9. Protesters have published a 10-point list of demands, centering on restoring the voting rights of prisoners and ex-convicts and treating those imprisoned with dignity.
Among the other demands are an "immediate end to prison slavery," with everyone in prison to be "paid the prevailing wage in their state or territory for their labor," and an "immediate end to the racial overcharging, over-sentencing, and parole denials of Black and brown humans."
The activists are also demanding the abolition of several laws and federal programs that have imposed mandatory minimum sentences, require states to ensure violent offenders serve at least 85 percent of their sentence before becoming eligible for parole, or restrict prisoners' ability to file lawsuits.
The American Civil Liberties Union has endorsed the strike, arguing that its key demand is the restoration of voting rights. Most US states bar prison inmates from voting, and in some cases deny the franchise to former prisoners as well. Only two US states – Vermont and Maine – allow all current and former prisoners to vote.
Though the 14th Amendment to the US Constitution, adopted after the Civil War, allowed for suspending the voting rights "for participation in rebellion, or other crime" – clearly targeting the citizens of Southern states that fought to secede – the phrasing has allowed states to temporarily or permanently disenfranchise felons in general.
The other major grievance of the prisoners comes from the 13th Amendment, which in 1865 abolished slavery and involuntary servitude, "except as a punishment for crime whereof the party shall have been duly convicted." This, they argue, means that slavery is alive and well in the US prison system.
Another connection to slavery is symbolic: August 21 is the anniversary of the 1831 slave revolt in Virginia led by Nat Turner. On the same day in 1971, prison activist and founder of Black Guerrilla Family, George Jackson, was killed during an attempt to escape from the San Quentin prison in California. Activists have referred to both anniversaries as meaningful for their choice of a starting date.

September 9 was chosen as the strike's closing day, to commemorate the 1971 rebellion at Attica Prison in upstate New York. Some 1,300 inmates at Attica demanded an end to slave labor and police brutality for four days, before a crackdown by law enforcement resulted in 39 people dead and 128 injured.
The 2016 prison strike, also organized by Jailhouse Lawyers Speak, chose September 9 as its starting date.
The US ranks first in the world both in the total number of people in prison and the incarceration rate (655 per 100,000). There are approximately 2.3 million people in a wide range of prisons and jails in the US, according to the most recent figures by the Prison Policy Initiative. If one includes another 3.7 million currently on probation and about 840,000 on parole, the US judicial system actually exercises control over nearly 7 million people.
Think your friends would be interested? Share this story!
You can share this story on social media: