'End prison slavery!' 24,000+ inmates join nationwide jail strike (VIDEO)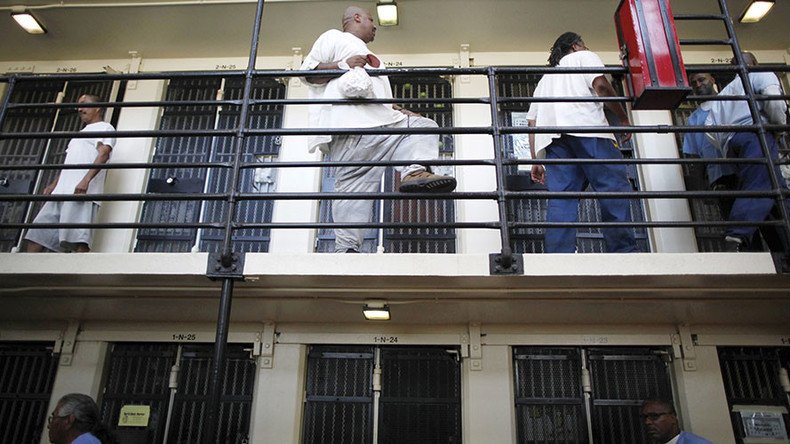 More than 24,000 inmates in at least 40 prisons from over two dozen states have refused to follow orders, failing to report for work and causing prisons to go on lockdown, since the nationwide prison work strike began in early September.
From Alabama to Michigan to Texas, despite the isolation of prisons and a desire to cover-up news of the work stoppages by correctional departments, reports are leaking of widespread disruption at prisons.
The nationwide prison strike began September 9, when inmates refused to report for their prison jobs. It is becoming the largest prison strike in US history.
CALIFORNIA
In California, at least 150 inmates are confirmed to be on strike in the John Latorraca Correctional Facility and Merced County Sheriff Jail. They are demanding better conditions, a lieutenant to be ousted and an end to solitary confinement. Inmates have been threatened with guns and dogs.
"Initially with the strike, they refused all consumption of food and all movement. They had boycotted court, their yard time, their visitation, all medical movement until something is changed," Victoria Castillo, an organizer with Live Free Merced, told RT. "We had all sort of problems with inmates not properly triaged or being triaged and cleared from prison and then having to have extensive surgery for cancers and underlying medical conditions that were potentially life threatening as well as improper mental health evaluations."
Castillo said that at the John Latorraca facility, there were "suicides every 60 to 90 days."
There are additional reports that the largest women's prison in the state, Central California Women's prison in Chowchilla, is also on an all-out strike.
Azzurra Crispino, organizer with the Incarcerated Workers Organizing Committee, told RT that while the mainstream media is not covering the strikes, there are many grassroots organizations working inside and outside over the major goal to reform prison conditions and strive for a prisoners' union.
"It is important to talk about why we want a prisoners' union and a fair minimum wage or a fair wage for prisoners. It is not just to better their conditions and give them a little nest-egg when they come out of prison and reduce recidivism, but also the recognition that the system of mass incarceration in the United States in only possible, because it exploits these captive workers," Crispino told RT. "Unionizing prisoners, which is why the Industrial Workers of the World is involved, is a strategy towards prison abolition and an end to prison slavery."
Crispino said there are private and public companies that benefit from the labor prison industry.
"McDonald's, Starbucks, AT&T, Verizon, Victoria Secret, United Airlines. It is a long list of companies that use prison labor for pennies to the hour, if at all any wage, and are benefiting from this monetarily," Crispino added.
Crispino said inmates have been threatened with retaliation in the form of solitary confinement, and long-term solitary confinement.
"In California at Merced, the inmates were threatened with dogs, rubber bullets and pepper spray," Crispino told RT. "We have seen a decrease in food quality to the prisoners. In South Carolina, there have been reports of maggots in the food. Lockdowns have been widespread."
FLORIDA
In Florida, protests erupted in four facilities in the north of the state.
At the Holmes Correctional Institution, a major disturbance happened on September 7, with several hundred inmates housed in multiple dorms for 24 hours. Visitations were canceled, and lockdown continued through the weekend.
At the Mayo Correctional Institution, two dorms were involved in work stoppage and disturbances on September 9 and 10. The institution was placed on lockdown. No injuries were reported, but again, visitation was canceled and lockdown continued through the weekend.
The Florida Department of Corrections said several inmates identified in the disturbances were transferred to other prisons. They also said the strikes would be investigated.
"More than 24,000 prisoners missed work. The facilities experiencing full shutdowns that we know about hold approximately 24,000 prisoners," said Incarcerated Workers Organizing Committee in a statement last week. "There are probably thousands more who didn't work that we don't know about, yet. Many are still not working today and intend to continue the strike until their demands are satisfied or the prisons break under the economic strain of operating without their slaves."
ALABAMA, MICHIGAN, SOUTH CAROLINA
In Alabama's Holman Prison, inmates went on a full strike and refused to report for their jobs on September 9. Also at Atmore, inmates did not report for work for a day.
In Michigan, prisoners at the Kinross Correctional Facility refused to report for kitchen work, forcing correctional officers to provide bagged food for lunch and breakfast the next day, according to Michigan Department of Corrections spokesman Chris Gautz.
Four hundred prisoners marched peacefully in the yard for several hours when a common room was damaged, and the facility was put on lockdown. Gautz said 150 prisoners who were considered strike organizers are being transferred to other prisons in the state.
There were also strikes in Indiana and Iowa, a hunger strike at Ohio State Penitentiary and SOCF in Lucasville, Ohio, and possibly at least half a dozen strikes in Texas.
The nationwide strike launch on September 9 also marked the 45th anniversary of the 1971 Attica Prison riot, when 1,300 men demanded an end to slave labor, an end to law enforcement brutality and fair visitations rights. The strike lasted four days before law enforcement raided the prison, killing 39 inmates and guards, leaving 128 men injured. Afterward, prisoners who survived the shooting were then tortured.
You can share this story on social media: