Watch dad blast white supremacist Charlottesville organizer during live stream with neo-Nazi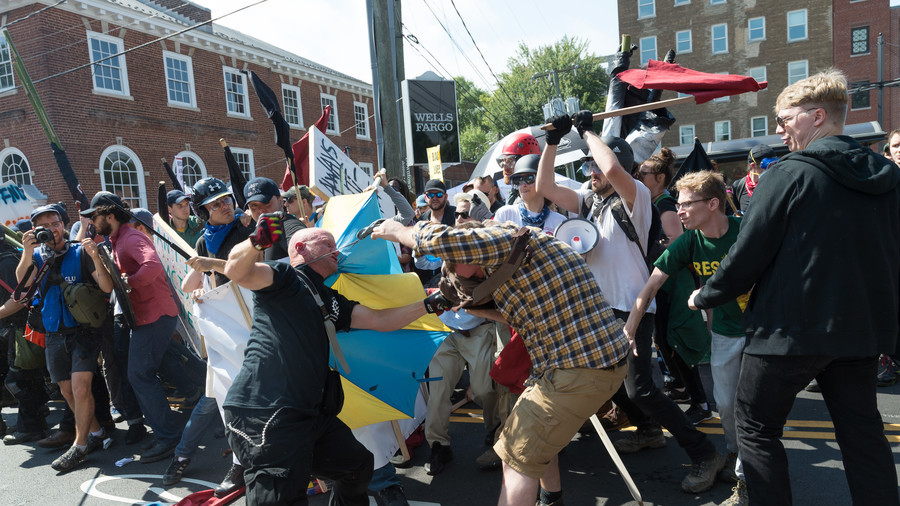 The organizer of last year's white supremacist rally in Charlottesville, Virginia, which left one person dead, has been humiliated in public as a video emerged of him being scolded by his father over his extremist views.
The video, which has garnered 610,000 views since it was posted on Tuesday, is a live streamed conversation between Jason Kessler and Patrick Little. Little is a neo-Nazi who this year ran for the US Senate in California, and whose platform called for America to be "free from Jews."
Kessler, 34, was having a discussion about Orthodox Jews with Little when his father barged into his room.
Unite the Right 2 organizer, Nazi failure Jason Kessler gets yelled at by his dad for being a Nazi while livestreaming w Nazi loser Patrick Little, who admits he may have to sell the boat he's broadcasting from at a loss because he needs money. pic.twitter.com/skmlmtdSAE

— FlyingOverTr0ut (@FlyingOverTr0ut) August 14, 2018
"Hey!" Kessler's father can be heard yelling out. "You get out of my room!"
"You got a drunk roommate there?" Little asked.
"Something like that," Kessler responded.
His dad intervenes again saying: "I want this to stop in my room, Jason, this is my room."
Kessler then tries to explain his father's opposition saying his parents watch "American history channel and its constant anti-German propaganda."
Kessler's dad then seems to give up as he is no longer heard in the background when the two carry on chatting. He goes on to detail how he is forced to live under his parents' roof as he foots the bill for legal costs associated with last year's rally.
The Charlottesville rally saw the death of 32-year-old Heather Heyer when a car rammed into a crowd of counter-protesters. A further 19 were injured.
"I'm stuck in a situation where I have to stay with my family because I'm paying for all these lawsuits and I can't afford to do that without staying with my family," he said.
He adds his parents are "cucked"- a derogatory term used by alt-right figures against those who don't hold similar extremist views.
Kessler tried to stage another Charlottesville protest this past weekend in Washington, but fewer than two dozen white supremacists showed up. They were outnumbered by more than 1,000 counter-protestors.
Like this story? Share it with a friend!