'Fascist pieces of sh*t!' Antifa attack police during white supremacist rally in DC (PHOTOS, VIDEO)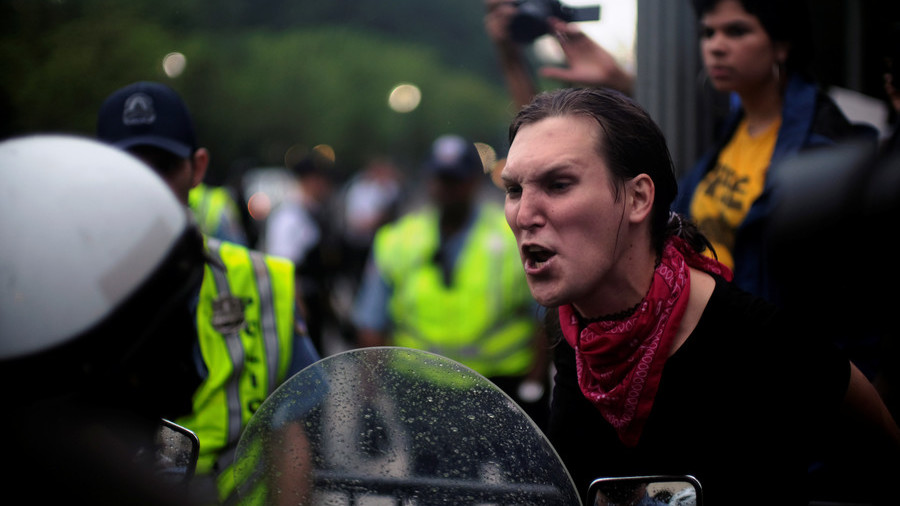 Radical counter-protesters assaulted and abused police, who were trying to stop them clashing with a white supremacist rally in Washington, DC. Furious Antifa members called officers "fascists" and "members of the KKK."
Sunday's left-wing counter-protests against the white nationalist Unite the Right 2 rally in the US capital were mostly non-violent, but some radical Antifa activists (short for anti-fascists) have been caught on camera insulting police, claiming officers were on the side of the far-right.
At some stage, an angry counter-protester, wearing black clothing and a red scarf, abused officers stationed near the White House who were providing security.
READ MORE: White supremacists and their opponents stage protests in Washington (PHOTOS, VIDEO)
"F**k you! Who the f**k do you protect?!" the man yelled. "Who the f**k do you serve? You're all Ameri-KKK, fascist pieces of sh*t!" He then gave the middle finger to police officers in front of him while continuing to shout "f**k you!"
As police boxed counter-protesters in and separated them from the white nationalists, the atmosphere became more rowdy. A black man was captured shouting at a police officer, calling him "white motherf**king b**ch" for not letting him through the security perimeter.
Some alternative news outlets reported Black Lives Matter (BLM) also engaged in verbal attacks on police. "You must be with that sh*t," the BLM activists told the officer, accusing him of being a member of the Ku Klux Klan (KKK).
"You must be a member … do you accept the KKK being here?" the BLM activist told the policeman, but got no reply.
Authorities had provided an enormous police presence to keep white supremacists and counter-protesters apart, and to avoid brawls. Coaches carrying Unite the Right protesters were escorted by double lines of police cars and a line of motorcycle-mounted officers.
However tensions increased and counter-protesters began throwing eggs and water bottles and launching firecrackers at police officers and some journalists who were covering the demonstrations.
NBC's Cal Perry uploaded a video of a protester shouting "F**k you, snitch-ass news b**ch! F**k you!" and aggressively pushing away his camera.
The Unite the Right 2 rally saw approximately two dozen white nationalists rally in Washington, DC on Sunday, exactly one year after clashes in Charlottesville, Virginia, left one person dead and ramped up racial tensions in the US.
Jason Kessler, who organized last year's Unite the Right rally in Charlottesville, blamed the low attendance turnout on logistical issues and confusion regarding the group's transportation.
Subscribe to RT newsletter to get stories the mainstream media won't tell you.
You can share this story on social media: