Dutch F-35 zooms over Sierra Nevada in 'beast mode' carrying external payload (VIDEO)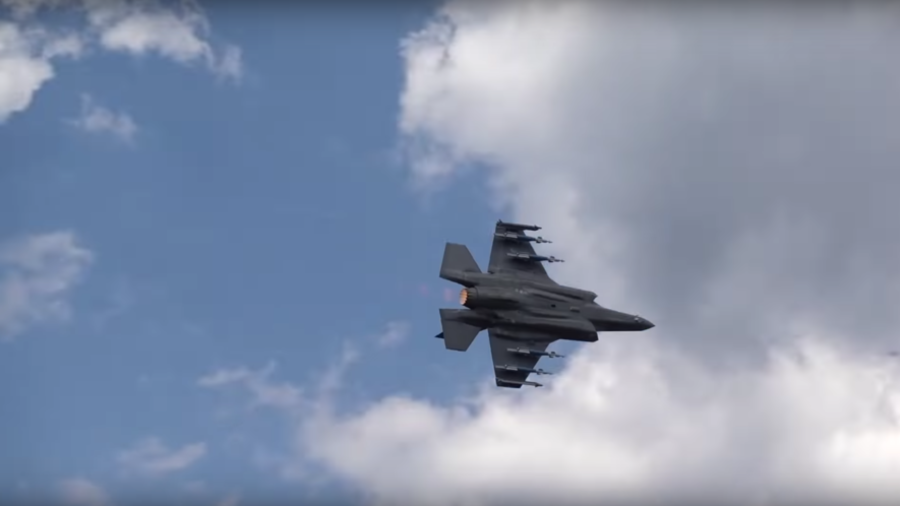 Rare footage of an F-35A Lightning II stealth fighter flying over the Sierra Nevada mountains in nearly full 'Beast Mode' with an external load of bombs and missiles, has been captured by a Dutch aviation photographer.
Climbing high to the peaks of Sierra Nevada mountain range at Needles Point Lookout Trail Head near Springville, California, the renowned Dutch photographer, Frank Crebas, managed to record Top Gun tricks performed by the Royal Netherlands Air Force guru pilot and 323 TES commander, Lt Col Ian 'Gladys' Knight flying out of Edwards Air Force Base.
The video, captured as part of the assignment for the Dutch newspaper 'de Telegraaf', shows the supersonic, multi-role F-35 armed with missiles on the exterior of the aircraft – a rare set-up for the stealth jet.
"It was the very first time that the Dutch OT&E unit flew with a full external load out after they previously flew with just the AIM-9X and 'just' two GBUs," Crebas told the Aviationist before, publishing the video of the spectacle on YouTube.
The spectacular footage shows the Lockheed Martin signature aircraft maneuvering over the so-called Starwars Canyon in California on July 26 just a stone's throw away from the videographer. Four GBU-12 500-lb Laser-Guided Bombs and two AIM-9X Sidewinders can be seen attached to the external pylons.
The multi-purpose 5th Generation fighter was designed to be able to handle up to 22,000 pounds of combined internal and external ordnance. When converted to full 'beast mode' for mixed air-to-air and air-to-ground attack missions, the jet is supposed to be armed with six GBU-31 JDAM 2,000lb guided bombs, two AIM-120 missiles and two AIM-9X Sidewinders. This mode has yet to be tested.
READ MORE: Half of F-35 fleet grounded by tech problems – Pentagon report
Developed by the US with the help of eight allies, the F-35 project is the most expensive weapons system in history, with an estimated lifetime cost of $1.4 trillion. The stealth fighter continues to be plagued by various faults, including malfunctions in the oxygen-supply system. In 2017, a Pentagon report revealed the jet had more than 270 deficiencies, ranging from software to structural problems.
Think your friends would be interested? Share this story!
You can share this story on social media: