'Enemy of the people': Almost half of Republicans say Trump should be allowed to close media outlets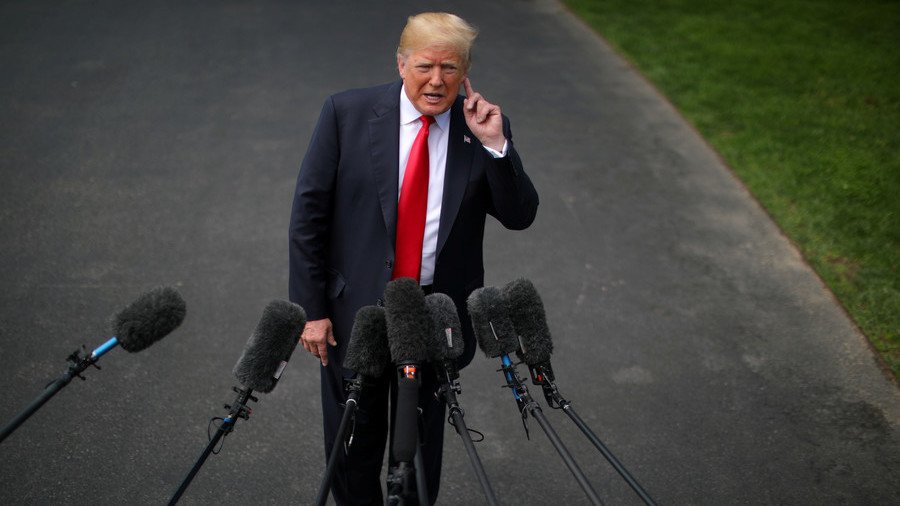 President Trump's attacks on the media, whom he dubbed "enemies of the people," have struck a chord with supporters. A new poll found that 43 percent of Republicans want to give him the power to shut down certain news outlets.
Public trust in the press has diminished since the days of Woodward and Bernstein, falling by 30 percentage points since the late 1970s. While an overwhelming majority of Americans surveyed by Ipsos agreed that the concept of a free press is essential for democracy, many are unhappy with how the press behaves in reality.
Less than half of Americans surveyed believe that news outlets strive for honest reporting. Only 29 percent of Republicans believe in the honesty of the media, and 80 percent believe the press treats President Trump unfairly.
Their concerns are shared by Trump, who regularly bashes the "fake news" media for dishonest reporting. Trump reserves much of his scorn for CNN, snubbing its journalists at press conferences and poking fun at its declining ratings on Twitter.
Wow, @foxandfriends is blowing away the competition in the morning ratings. Morning Joe is a dead show with very few people watching and sadly, Fake News CNN is also doing poorly. Too much hate and inaccurately reported stories - too predictable!

— Donald J. Trump (@realDonaldTrump) August 2, 2018
Trump has repeatedly referred to journalists he considers biased against him as "enemies of the people." According to the Ipsos poll, one third of all Americans agree that the "news media is the enemy of the American people." Among Republicans, this number rises to 48 percent.
While 68 percent of Democrats believe that the media is honest, and only 23 percent think that most outlets have a liberal bias, a Harvard study found that the media portrays Trump's presidency in an overwhelmingly-negative light.
In covering Trump's first 100 days in office, 80 percent of articles and reports from CNN, NBC, CBS, the New York Times, the Washington Post, the Wall Street Journal, and Fox News were negative. 93 percent of CNN's reports were negative, while Fox went easiest on Trump, with a relatively even split of positive and negative coverage.
READ MORE: 'Lying bullsh*t' and 'propagandist for profit': Sean Hannity and Jim Acosta step up their feud
By contrast, only 41 percent of the coverage of the Obama administration during the same period in his presidency was negative. The study's authors said that "Trump's coverage during his first 100 days set a new standard for negativity."
Amid the cloud of negative coverage, 43 percent of Republicans surveyed agreed that "the president should have the authority to close news outlets engaged in bad behavior," although what exactly was meant by "bad behavior" was not specified. Furthermore, when pressed on whether Trump should close down specific mainstream, left-leaning outlets like CNN, the Washington Post, and the New York Times, only 23 percent of Republicans agreed.
Meanwhile, Trump's public feud with the media continues, with the President saying on Monday that his tweets about the dangers of "fake news" provide "a great service by explaining this to the American People."
The Fake News hates me saying that they are the Enemy of the People only because they know it's TRUE. I am providing a great service by explaining this to the American People. They purposely cause great division & distrust. They can also cause War! They are very dangerous & sick!

— Donald J. Trump (@realDonaldTrump) August 5, 2018
If you like this story, share it with a friend!
You can share this story on social media: