German couple jailed for prostituting their 9yo son to pedophiles online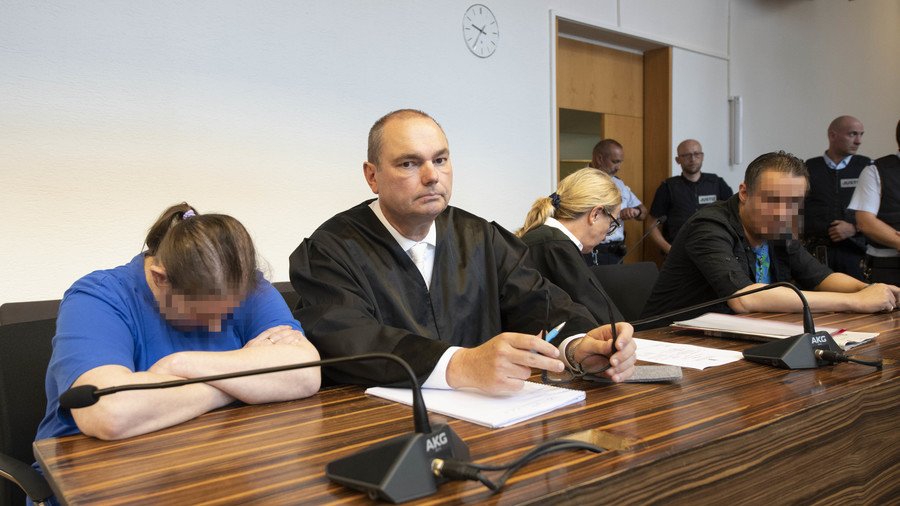 A couple in Germany has been convicted and sentenced to 12 years behind bars for running an underage rape ring over a two-year period and for repeatedly pimping out their young son on the Darknet.
The victim's mother, 39-year-old Berrin T, who agreed to have her son repeatedly raped and filmed between May 2015 and August 2017, was sentenced to 12 years and six months in prison. Her partner, 48-year-old Christian L., also convicted of rape, aggravated sexual assault of children, forced prostitution and distribution of child pornography, was sentenced to 12 years with preventive detention.
At the conclusion of the trial in Freiburg, Judge Stefan Bürgelin also ordered the couple to pay €42,500 ($49,100) to the boy and a six-year-old girl who was also a victim of a pedophile network, which, along with the jailed couple, included six other men.
While sentencing the couple, Judge Bürgelin noted the mother's central role in the child abuse case. According to testimonies heard by the court, Berrin T initially agreed to arrange rape sessions on the dark web because she feared losing her partner if she failed to fulfill the man's pedophile tendencies. Subsequently, she allowed the abuse to continue for financial gain.
Freiburg Regional Court had already sentenced four men who had abused the boy. A 41-year-old man from the Breisgau, identified as Markus K., was sentenced to ten years behind bars and preventive detention while a 50-year-old Bundeswehr soldier, Knut S., received eight years. Swiss national, Jürgen W., 37, was handed nine years and preventive detention, while a 33-year-old telecommunications technician, Javier GD from Barcelona, was given a 10-year sentence. Both the Swiss and the Spaniard defendants admitted paying the couple €10,000 ($11,560) to rape the boy multiple times.
A trial in Karlsruhe had previously sentenced a 44-year-old man from Schleswig-Holstein to eight years and preventive detention for participating in the ring's activity. The seventh man, from Neumünster, connected to the pedophile network, was handed seven years and three months for abusing his own underage daughter. The three-year-old girl, mentally and physically underdeveloped at the time, was also raped by Berrin T. and Christian L. in a particularly severe way, the judge noted on Tuesday, adding that the victims had been treated like goods, constantly insulted, humiliated, injured and frightened.
"The child screamed in pain, it was the most violent act,"said Bürgelin after reviewing the abuse videos widely circulated and sold on the Darkweb. "We have not seen any other video on which the child has suffered such pain."
The case, which has sent shockwaves across the world, has raised serious concerns about the authorities' failure to protect the boy, who is now 10. The stepfather had a previous conviction for child abuse and was prohibited from having contact with children, let alone live with them in the same apartment. The 10-year-old now lives with a foster family.
If you like this story, share it with a friend!
You can share this story on social media: