Raging Mendocino Complex fire becomes largest in Californian history (VIDEOS, PHOTOS)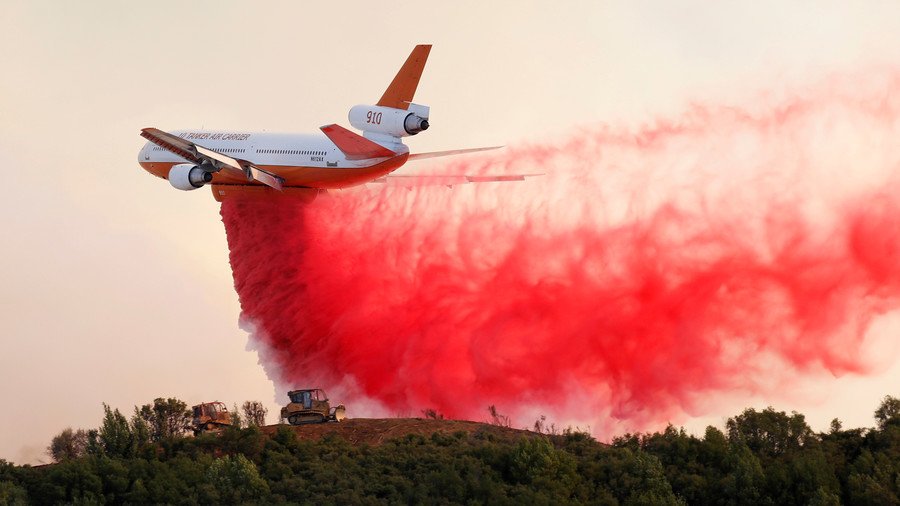 The raging Mendocino Complex fire has officially become the largest wildfire in California's history, authorities have confirmed. Firefighters continue to battle the blaze, which is currently only 30 percent contained.
"We broke the record," Department of Forestry and Fire Protection spokesman Scott McLean said. "That's one of those records you don't want to see."
The Ranch and River fires that make up the Mendocino Complex wildfire had grown to 283,800 acres by Monday evening, Cal Fire said in their latest update. Some 3,908 firefighters, 441 fire engines, and 15 aircraft continue to battle the flames.
"Tonight fire crews will try to take advantage of the lower temperatures to increase suppression and hold current containment lines," Cal Fire said.
MB Firefighters are still on the fire lines at the #MendocinoComplex as part of our local OES SLO County Strike Team. Our Strike Team is on their 12th day & MB provided structure defense on Scott's Valley Road yesterday with great results. California #MutualAid works. pic.twitter.com/ANN6VlTrxt

— Morro Bay Fire (@MorroBayFire) August 5, 2018
While no casualties have yet been reported, the fires, which have been raging throughout Northern California since July 27, have already destroyed 75 residences and are currently threatening another 11,300 structures. With mandatory evacuations in place in parts of Mendocino and Lake Counties, authorities warn that only 30 percent of the blaze has been contained so far.
The Mendocino Complex fire surpassed the Thomas fire, which ripped through 281,000 acres in southern California last year.
If you like this story, share it with a friend!
You can share this story on social media: