Chicago endures early morning bloodbath with 30 people shot in 3 hours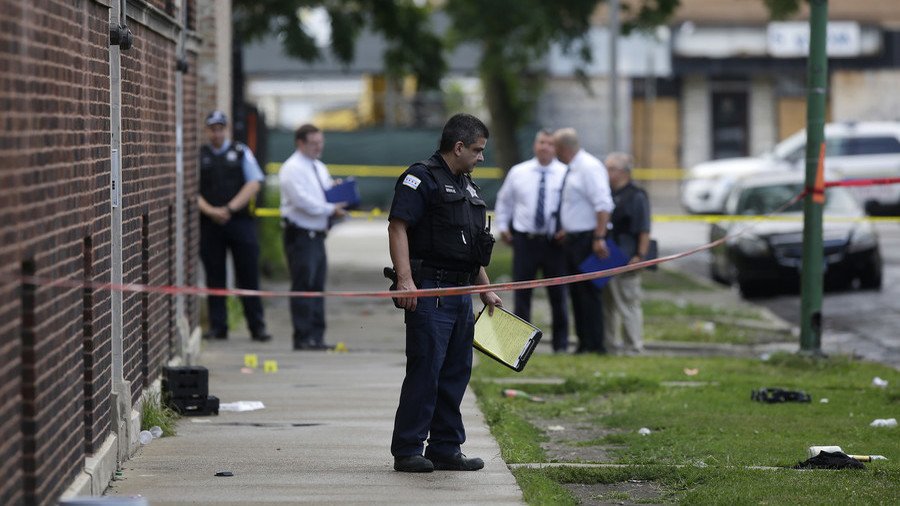 Gun violence swept Chicago over the weekend, as two people were shot dead on Sunday and another 28 were wounded during three hours in the early morning that saw the city being rocked by five mass shootings.
Chicago, ranked among the list of America's most dangerous cities due to its high homicide rate, has been experiencing a spike in violence that is startling even by its own grim standards.
Some 25 people were victims in five mass shootings that rocked the city early on Sunday. A teenage girl was killed in Chicago's Lawndale neighborhood on Sunday morning in a shooting that resulted in another five people being injured, including an 11-year-old boy.
The girl was shot in the face and died at the scene, police said. A 26-year-old man also suffered gunshot wounds to his abdomen and ankle as a gunman fired from a moving vehicle. The man succumbed to his injuries and was pronounced dead in hospital.
In another mass shooting that took place in a courtyard, eight people, including children, were injured.
Lawndale witnessed another mass shooting shortly after the city descended into darkness. The incident unfolded near an elementary school, where three teenagers, two boys and a 17-year-girl, as well as a 25-year-old man were injured in a shooting rampage by unknown perpetrators, the Chicago Sun-Times reported.
A street brawl in the West Garfield Park neighborhood sparked a shootout between two rival gangs. Three women who were standing on a porch nearby were injured in the incident and taken to hospital.
Another shootout occurred in the West Humbold Park neighborhood, after perpetrators in a black Cadillac fired at a group of people standing on the sidewalk. Four people, including a passerby, were injured as a result. The Cadillac swayed off the road and crashed during the shooting, but the attackers still managed to escape in the car.
In a spate of several separate shootings, each involving a single victim, a 14-year-old boy suffered a wound to his leg in Garfield Park, an 18-year-old teenager sustained "multiple shots" in Lawndale, and a 26-year-old man and a 20-year-old woman were shot in the leg and an abdomen respectively in the Little Village and Logan Square neighborhoods.
A total of 60 people have been shot in Chicago since 5pm on Friday, nine of whom died, as the city endured one of its deadliest weekends, ABC's Chicago affiliate WLS reported on Monday, citing police. Police said that the local hospital, its resources stretched thin by the bloodbath, was placed under "trauma lockdown," meaning only closest family members can access patients.
Chicago secured 12th place in the Wall Street Journal's ranking of America's 25 murder capitals last year. While the position in the middle of the list may seem unworthy of the nickname "Chiraq," likening the city to a war zone, the WSJ notes that Chicago, "however, was largely responsible for the increase in violent crime nationwide over the last year," as its surge in murders, from 18 to 28 murders per 100,000 residents "accounted for 21 percent of the total increase in homicides nationwide."
In order to raise awareness about the issue that has been plaguing the city for years, activists have recently erected a mock 'gun-sharing' station. The station looks like a bicycle-sharing station but with AR-15 rifles, with a sign inviting all "to unlock and load."
A series of deadly mass shootings in the US during the past two years – particularly the mass shooting at Marjory Stoneman Douglas High School in Parkland, Florida last February – have breathed new life into the gun-control movement. A wave of protests with thousands of attendees led by the survivors of the massacre swept across the US, with demonstrators demanding that existing lax gun laws be toughened in a bid to reduce gun violence.
Subscribe to RT newsletter to get stories the mainstream media won't tell you.
You can share this story on social media: