New York man arrested for voicemail threatening Republican lawmakers
Published time: 2 Aug, 2018 23:46
Edited time: 3 Aug, 2018 08:09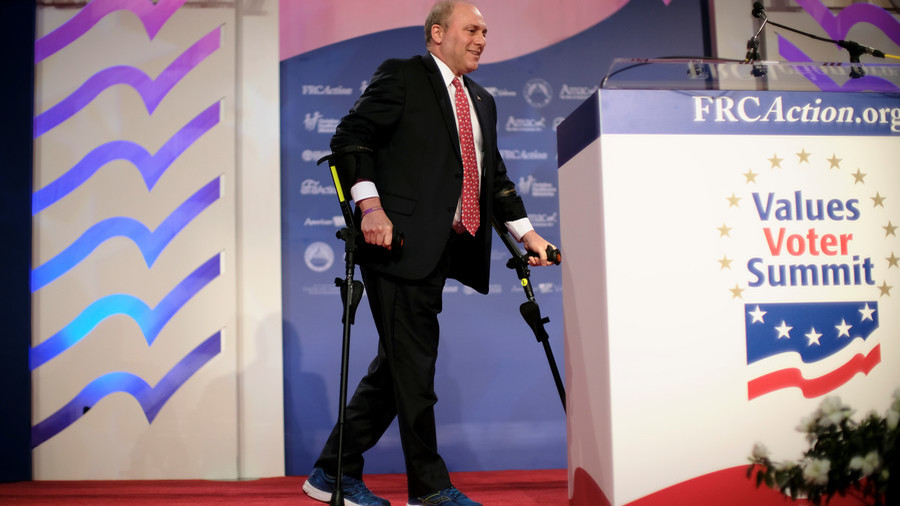 A man from upstate New York has been arrested after leaving threatening voicemails to House Majority Whip Steve Scalise (R-Louisiana), who was injured last year in a politically motivated shooting, and another lawmaker.
Carlos Bayon, 63, was arrested Wednesday and charged with interstate communication of a threat. Originally from Puerto Rico, Bayon is a resident of Grand Island, a town southeast of Niagara Falls, Buffalo's WKBW-TV reported.
After the US Capitol Police was told about the voicemails, the FBI traced the calls to Bayon. A search of his house found "very concerning" items, US Attorney James Kennedy Jr. told The Buffalo News.
"We are convinced that this defendant's threats were credible," Kennedy said.
Police arrest 63 yr-old Carlos Bayon & charge him with leaving threatening voicemails for Scalise & Hse GOP Conf Chair McMorris Rodgers. Scalise spox: Scalise is grateful to law enforcement..He will never forget how their heroism saved his life & those of his colleagues last year

— Chad Pergram (@ChadPergram) August 2, 2018
When asked if the message could be referring to the Trump administration's immigration policies, Kennedy said "I think that's a reasonable interpretation."
According to the authorities, Bayon left the voicemails on June 30, targeting Scalise and Cathy McMorris Rodgers (R-Washington), chair of the House Republican Conference, with a threat that included the line "an eye for an eye, a tooth for a tooth" in Spanish.
"Hey listen, this message is for you and the people that sent you there. You are taking ours, we are taking yours. Anytime, anywhere. We know where they are. We are not going to feed them sandwiches, we are going to feed them lead. Make no mistake you will pay. Ojo por ojo, diente por diente. That is our law and we are the majority. Have a good day," the voicemails said.
If found guilty, Bayon faces up to five years in prison and a fine of up to $250,000.
Scalise's spokeswoman Lauren Fine thanked the authorities for taking quick action to track down and arrest the caller.
"Whip Scalise is grateful to law enforcement for their actions. He will never forget how their heroism saved his life and those of his colleagues last year," Fine said in a statement. "As he has said before, there is absolutely no place in our political discourse for violent threats."
Scalise was seriously injured in the June 14, 2017 shooting in Alexandria, Virginia, when a gunman opened fire on Republican members of Congress at a baseball practice field. The attacker, identified as 66-year-old James Thomas Hodgkinson of Illinois, was killed by US Capitol Police.
Think your friends would be interested? Share this story!