Belarus cops bust swingers party, arresting 52 for illegal orgy (VIDEO)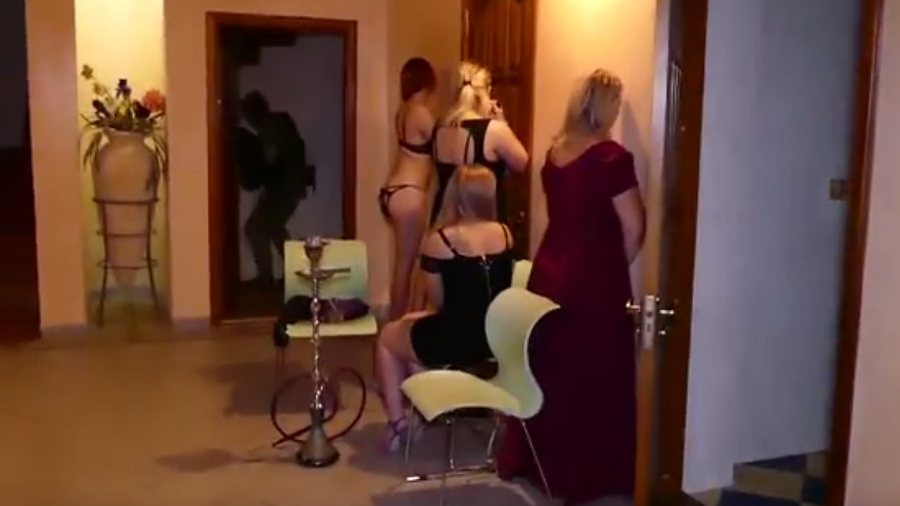 A swingers party in Belarus was crashed by the most unwelcome of guests, as police officers swooped in to shut down the illegal orgy at a cottage near the capital, Minsk.
The sleazy party was in full swing on Saturday night when special forces raided the event and arrested more than 50 people. Extraordinary video footage from the scene shows sweating, semi-naked "customers" covering their faces as police officers round them up for arrest. An improvised bar with all sorts of liquor available is also seen in the video.
The age of the attendees ranged from 20 to 45, the Belarus Interior Ministry said in a statement, calling the house an "underground brothel." The clientele included everyone from couples and students to prostitutes, and officers cuffed 34 men and 18 women in total.
The party was run by two "unemployed" individuals who have been renting the venue and hosting sex parties since 2016. Visitors to the x-rated events were treated to drinks, food and escorts and the 'fully equipped' venue boasted a sauna and a swimming pool. The party organizers found their customers on social media and through word-of-mouth. Entry into the raunchy affair cost 370 Belarus rubles ($186). Women, however, got in for free.
The ministry noted that swinger parties, where revellers swap sexual partners, are becoming an increasingly popular trend that is "taking down scores."
Prostitution and brothels are illegal in Belarus. Providing escort services is an administrative offence, while running a brothel may result in a prison sentence.
Like this story? Share it with a friend!