Gag order: Judge literally orders prisoner's mouth to be taped shut in court (VIDEO)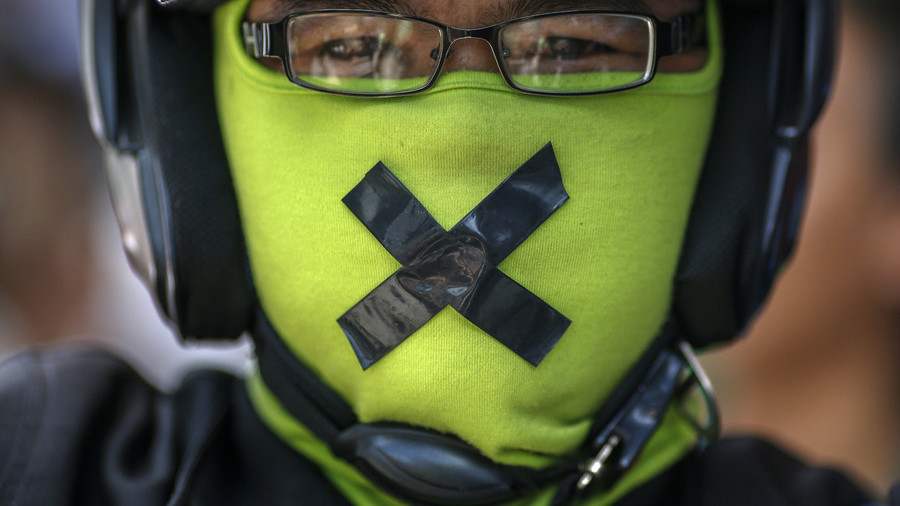 A Ohio judge ordered a prisoner's mouth be taped shut in court because the defendant wouldn't stop talking. Disturbing video shows six deputies surrounding the man before gagging him.
Ohio judge John Russo ordered court deputies to shut the mouth of defendant Franklyn Williams during his sentencing hearing at the Cuyahoga County Common Pleas Court on Tuesday.
READ MORE: Judge blocks release of 3D-printed gun blueprints hours before public launch
Video filmed inside the court shows Williams speaking as Ruso repeatedly tells him to be quiet, Fox8 reports. "Shut your mouth and I will tell you when you can talk. You got it?" the judge said.
"You'll get a chance to talk. I am going to give you a chance to talk," Russo added, before warning the defendant: "If I have to, I will gag you in one second."
Williams was attempting to tell the court he had only just met his attorney and that his belongings had been taken from his cell.
A group of six deputies surrounded Williams before they covered his mouth with red duct tape. "It's against my rights, man, it's not fair," Williams said as a deputy prepared the tape, WHIOTV reports. "This judge is just trying to send me to prison. I'm getting no justice, this is not a fair trial."
Russo later defended his order, telling Fox8 he knew Williams was "someone who liked to speak," and that he gave him more than a dozen warnings to stop talking. He added that it was perfectly legal for a sheriff's deputy to gag a defendant.
Williams was sentenced to 24 years in prison for aggravated robbery, kidnapping and misuse of credit cards. He had previously been sentenced to 14 years after pleading guilty, but later won an appeal because he had been misinformed about when he would be eligible for early release from prison.
During his retrial in December, he cut off his ankle monitor and fled to Nebraska. The court continued with his trial without him. Once he was caught, Williams said he had been hit on the head in Nebraska and couldn't remember anything. On Tuesday prosecutors played tapes of his phone calls with family members which contradicted his claim.
If you like this story, share it with a friend!