Cop caught on camera slamming 9yo boy to ground sparks police brutality debate (VIDEOS)
Published time: 25 Jul, 2018 16:15
Edited time: 26 Jul, 2018 08:22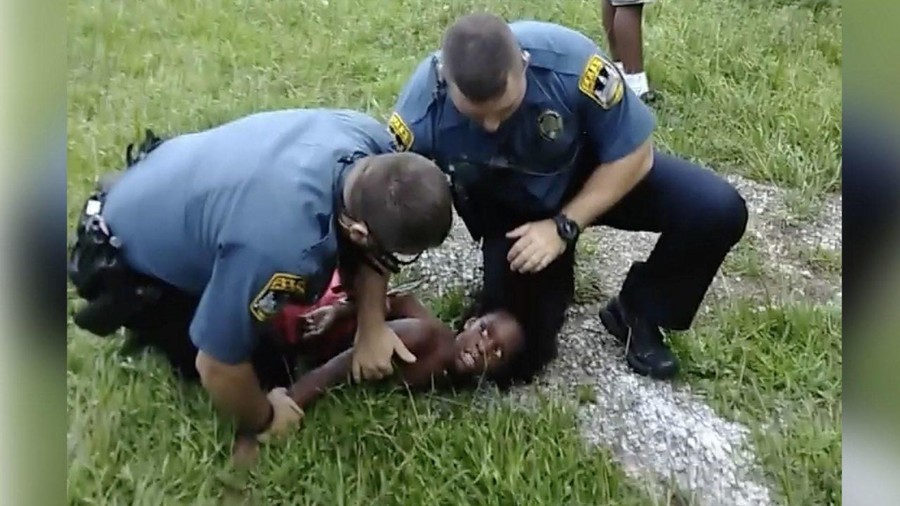 Harrowing footage of a US police officer slamming a nine-year-old boy to the ground has surfaced online. The shocking scenes sparked public outrage – leading police to share their own video of what went down in Athens, Georgia.
The initial video, released by Athens resident April Collins, went viral when she caught her nine-year-old cousin Eric being forced down and pinned to the ground by police when officers attended the residence to arrest the boy's father over a domestic violence dispute. The footage, uploaded to Facebook on Sunday, caused fury within the community – but the video was not all that it seemed.
This is the Athens Georgia, Clarke County police restraining a nine-year-old boy. The child was upset that his father was placed in the back of a patrol car and ran to see him. The child was slammed onto the hood of the police car and then onto the ground and restrained. pic.twitter.com/1jHUJ70ElW

— Bishop Talbert Swan (@TalbertSwan) July 24, 2018
In response, police shared their own footage, which showed a frantic Eric losing his temper and launching himself at an Athens-Clarke County officer on the Friday evening. In the video, the officer can be heard screaming "stop resisting" at the boy and "back off" to his panicked family members.
April Collins' footage, despite being removed from Facebook, is still available on Twitter. The two videos have caused outrage and debate on social media, with people both condemning the police response and questioning the boy's behavior. Facebook user Anna Marie Bennett watched the bodycam footage and commented that she could "not see justification for the amount of force used," adding: "this is a child." Another Facebook user Ali Edwards pointed out that police "should have skills in helping children that are clearly distraught and emotional over the situation."
"How hard is it to not use physical force on a 9 year old," one Twitter user said. However, another social media user wrote that the bodycam shots painted "quite a different picture than the first short clip that was posted by the family." One Twitter user simply said "context matters," and others queried why the child's family did not have him under control to begin with.
An Athens-Clarke County Police statement confirmed that Police Chief Freeman has ordered an internal affairs investigation into the matter, and the Athens-Clarke County attorney is reviewing the video footage due to juvenile involvement.
Think your friends would be interested? Share this story!