Portland police clear out 'Occupy ICE' camp after protesters dig in for five weeks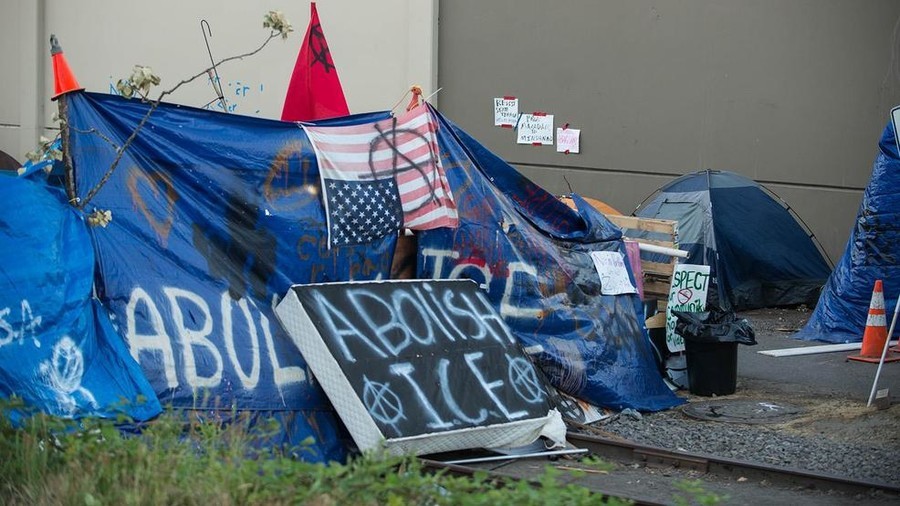 Immigration activists, camped outside Immigration and Customs Enforcement (ICE) offices in Portland for five weeks, have finally abandoned their barricades as police moved in to clear the streets.
After forcing Portland's ICE office to shut down last month, a ragtag collective of leftists and open-borders activists vowed to occupy the office until President Donald Trump's controversial 'zero tolerance' immigration policies end. Over five weeks later, the street protest grew into a fully-fledged tent city.
Sprawling over a public intersection in the city's South Waterfront district, the camp generated piles of garbage and was declared an 'unlawful campsite' this week. Black and red 'Antifa' flags flew above its shanty-town walls, and posters inside read "f*ck cops." Signs within the camp warned visitors not to talk to police, and that the camp was an "autonomous zone," and any attempt to dismantle it would be treated as "a declaration of war."
The camp has been the scene of several confrontations between the leftists inside and the right-wing groups Patriot Prayer and Proud Boys outside. Portland Mayor Ted Wheeler had initially spoke out in support of the protesters, calling ICE an agency that was "on the wrong track," but asked protesters to clear out on Monday, declaring the camp "unsustainable."
Police entered the camp on Monday to announce that it would be forcibly cleared on Tuesday, but for more than 24 hours afterwards, the camp stood, now ironically with a fortified wall and masked 'border guards.'
Police finally moved in on Wednesday morning, clearing the camp of protesters and threatening stragglers with arrest. Once the camp's occupants had been shifted on, a cleanup operation began.
"We want to make it explicitly clear that this is not the only front in this war and this is not where this battle ends," said a spokesman for the protesters. "This battle is going to be fought on many fronts, from politics to direct actions."
Occupying ICE offices has proven a popular form of protest since news broke of the Trump administration separating illegal immigrant families at the border. Similar protest camps have sprung up in Los Angeles, Philadelphia, San Diego, Detroit, and beyond. More threateningly, Antifa activists published and disseminated a searchable database of some 1,600 ICE agents last month, which contained names, addresses, and children's names.
Politically, 'Occupy ICE' has become a rallying cry for the progressive wing of the Democratic Party. Self-professed 'Democratic Socialist' Alexandria Ocasio-Cortez - fresh from a surprise primary win in New York last month - called for the abolition of ICE and told protesters "We need to occupy every airport. We need to occupy every border. We need to occupy every ICE office until those kids are back with their parents, period."
Rallying under a vague banner of abolishing an entire governmental agency, occupation has not been all drum circles and peaceful resistance. Federal officers called in to protect the ICE office in Portland say that they have been subjected to hateful and racist insults. One black officer reported being called "n*gger" and "blood traitor" by protesters, "throughout the entire length of the deployment."
Other agents reported being called murderers, rapists, and Nazis. "They have yelled continuously that they hope we die, they hope our families die," another officer wrote.
Likewise, the owners of a charitable food cart parked across the street from the ICE office were forced to shut business down, after protesters harassed and threatened their family for serving food to the federal agents working nearby. The owners had used the proceeds of the cart to feed and clothe Portland's homeless population, but nevertheless found themselves targeted for not supporting the protesters' anti-ICE agenda.
As the sun came up on Wednesday and the camp's occupants dispersed, Portland Police Chief Danielle Outlaw said that the cleanup happened with no arrests, leaving behind only a trash-strewn shanty.