'Sent by God': Maxine Waters fires up church with anti-Trump rhetoric
Published time: 25 Jul, 2018 16:09
Edited time: 26 Jul, 2018 11:30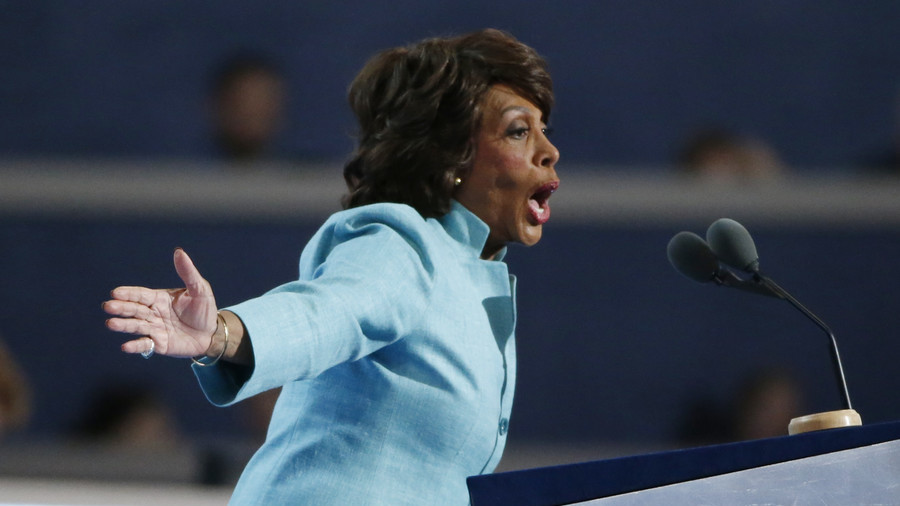 California Democrat Maxine Waters claims she's on a mission from God against President Donald Trump, telling congregants at a Los Angeles megachurch: "When God sends you to do something, you just do it!"
"We never dreamed we'd have someone in the White House who was divisive, who could not tell the truth, and who was intent on not making America great again, but taking America down," she told the cheering congregation on Sunday.
After unloading on Trump for his alleged plans to lift US sanctions on Russia, Waters claimed that God sent her on her political mission against the president.
"I'm going back to Washington tomorrow morning, I'm going to tell them pastor told me to come here and just do it!" she said.
Waters has called for Trump's impeachment a handful of times since the president took office, and positioned herself as one of his loudest and most aggressive critics since protests against his administration's 'zero-tolerance' immigration policies took off earlier this summer.
Following a spate of incidents in which Trump administration officials were harassed in public places, Waters caused controversy last month when she rejected calls for civility and urged on her supporters to step up the harassment campaign.
"If you see anybody from that Cabinet in a restaurant, in a department store, at a gasoline station, you get out and you create a crowd and you push back on them, and you tell them they're not welcome anymore, anywhere," she told a rally in Los Angeles, seemingly forgetting Jesus' instruction to "love thy neighbor as thyself."
Trump hit back, calling Waters an "extraordinarily low IQ person," and the "unhinged face of the Democrat Party." He declared that her "ranting and raving" will make voters "flee the Democrats." The two have been engaged in a war of words since.
Congresswoman Maxine Waters, an extraordinarily low IQ person, has become, together with Nancy Pelosi, the Face of the Democrat Party. She has just called for harm to supporters, of which there are many, of the Make America Great Again movement. Be careful what you wish for Max!

— Donald J. Trump (@realDonaldTrump) June 25, 2018
Congratulations to Maxine Waters, whose crazy rants have made her, together with Nancy Pelosi, the unhinged FACE of the Democrat Party. Together, they will Make America Weak Again! But have no fear, America is now stronger than ever before, and I'm not going anywhere!

— Donald J. Trump (@realDonaldTrump) June 27, 2018
Amidst the verbal sparring, Waters managed to comfortably win her re-election primary at the end of June, collecting 71 percent of the vote in her reliably liberal, Hispanic-majority South Central LA district.
Waters' LA office was evacuated on Tuesday, after a package labeled 'anthrax' was delivered. Police and hazardous materials teams were dispatched, and the package was deemed safe. Los Angeles police and the FBI are investigating the incident.
The same LA office was supposed to be the scene of a protest by the right-wing Oath Keepers group last week, but they canceled their demonstration, citing safety concerns. Counter-protesters showed up in support of Waters, some of whom burned an American flag.
Waters denounced the flag-burning, but defended the protesters' "right to this form of free expression."
Like this story? Share it with a friend!