Los Angeles police, not hostage-taker, killed Trader Joe's manager (VIDEO)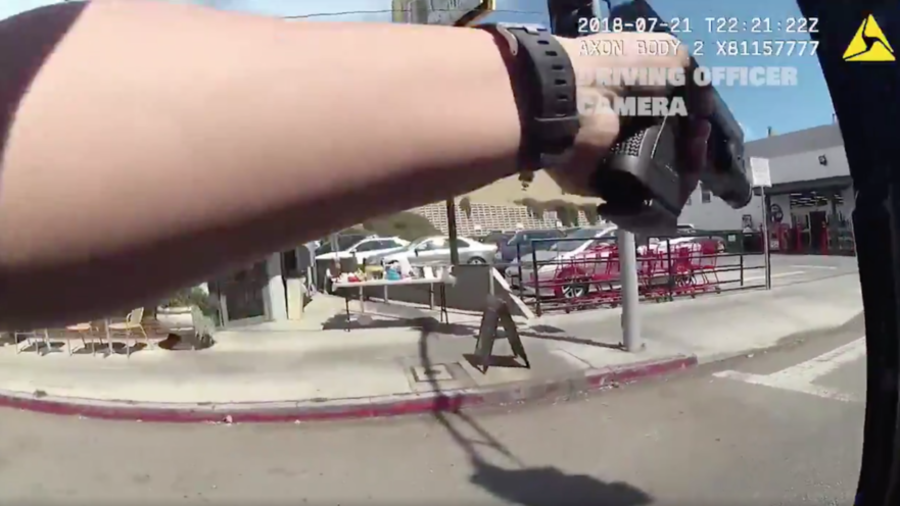 A Trader Joe's employee who died in a shootout on Saturday during a tense hostage situation at a grocery store in Los Angeles, was actually shot by a police officer, LAPD confirmed Tuesday.
After piecing together the timeline of the tragic events that culminated in a hostage situation at Trader Joe's in the Silver Lake district, Los Angeles Police Chief Michel Moore said he was "sorry to report" that the loss of life was attributed to a round fired by an officer. The manager hit by a stray bullet was named as 27-year-old Melyda Corado. The gunman confronting the police at the scene was identified as Gene Atkins.
"We've now determined through our forensic investigation that one of the officers' rounds struck Ms. Corado as she was exiting the market and was in close proximity to Atkins," Moore said during a media conference, noting that the victim died from the "through-and-through wound to her left arm that then moved into her body."
While Atkins surrendered to the SWAT team following an intense three hours of negotiations, the 28-year-old suspect was still charged with Corado's murder following a series of Atkins-triggered events that lead to the tragic death.
Read more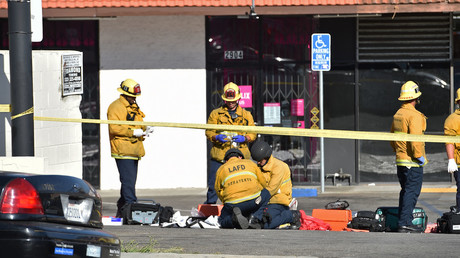 In addition to murder, the suspect, who made an initial court appearance on Tuesday, was also charged with 31 felony counts, including attempted murder and false imprisonment. The LAPD, meanwhile, has released the police footage of the incident.
After shooting and wounding his 76-year-old grandmother and his 17-year-old girlfriend over a domestic dispute issue earlier on Saturday, Atkins tried to flee in a Toyota car while abducting the young woman. LAPD tried to stop him in a high-speed car chase.
The dash cam footage shows a LAPD vehicle chasing after Atkins through Hollywood. During the 15-minute pursuit, the suspect is seen firing multiple rounds at a police car, whose officers chose not to respond out of public safety concerns. Eventually, the suspect's Toyota slammed into a pole next to the Trader Joe's store, prompting Atkins to hastily abandon his injured partner and seek shelter at the grocery store.
As Atkins ran inside the Trader Joe's police began firing at the suspect, striking the gunman in his arm and hitting store manager Corado with a stray bullet. Bodycam footage shows that fire exchange in which eight bullets were discharged by the LAPD, Moore noted.
We have released both body worn and in-car video from the LAPD Officer-Involved Shooting that occurred on July 21st at a Trader Joe's in the Silver Lake area. The press conference from earlier this morning can be viewed by clicking the link https://t.co/9jhiT2RFe5pic.twitter.com/5J62nQ1Sqt

— LAPD HQ (@LAPDHQ) July 24, 2018
After the suspect barricaded himself inside the store, he began firing through the shop's window at officers, Moore said. He also threatened to shoot and kill people he took hostage in the store, the chief added. Eventually, after holding about 40 people at gunpoint for several hours, Atkins surrendered to the authorities.
While the crossfire led to the tragic demise of a woman, the Police Chief defended the use of lethal force. "I believe my officers' actions were taken to defend themselves and in direct response to the deadly threat posed by Atkins," Moore told reporters on Tuesday. "As chief of police, I believe it's what they needed to do in order to defend the people of Los Angeles and to defend the people in that store and to defend themselves."
Atkins' grandmother and 17-year-old girlfriend remain in critical condition, LAPD noted.
If you like this story, share it with a friend!