But Putin said otherwise: #Resistance embraces Russian president to counter Trump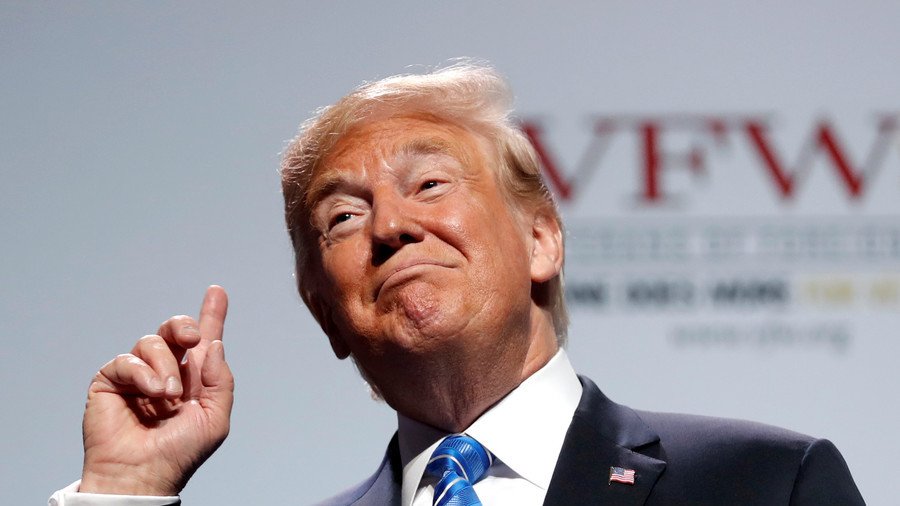 The very same people who roasted President Donald Trump for rejecting evidence-free claims of Russian meddling in US elections are now demanding evidence for his claim Moscow will favor Democrats in November midterms.
"I'm very concerned that Russia will be fighting very hard to have an impact on the upcoming Election. Based on the fact that no President has been tougher on Russia than me, they will be pushing very hard for the Democrats. They definitely don't want Trump!" the president tweeted on Tuesday, before giving a speech to the Veterans of Foreign Wars convention in Kansas City, Missouri.
The sudden change of approach sent the president's critics in the media and the online #Resistance movement into disarray. Here was Trump actually agreeing with them that Russia was meddling in US elections – then amplifying that argument by claiming Moscow would do so on their behalf, not his.
Senate Minority Leader Chuck Schumer (D-New York) literally resorted to taking the word of Russian President Vladimir Putin to prove Trump wrong.
Interestingly, the clip he shared features a mistranslation of Putin's remarks, which many US media outlets embraced – wrongly – as admission of Russian election meddling.
Outspoken #Resistance activists accused Trump of Russia-baiting in an attempt to distract the country from what they claimed would be the Republicans' inevitable defeat at the polls in November.
One MSNBC contributor called Trump's tweet a "bizarre message designed to muddle the indelible image of servitude to Vladimir Putin."
Reuters was slightly more sedate, headlining its report: "Offering no evidence, Trump says Russia will back Democrats in election." The agency echoed Schumer's invocation of Putin's words from the press conference in Helsinki, when the Russian president said he preferred Trump's victory in 2016 because he promised better US-Russia relations.
In the same paragraph, however, Reuters noted that Putin denied any Russian meddling in the US elections, illustrating the bizarre dichotomy of Putin's words suddenly being treated as gospel truth when they seem to agree with the US intelligence narrative, but being treated as worthless otherwise.
Like this story? Share it with a friend!
You can share this story on social media: