Clinton on Life Alert?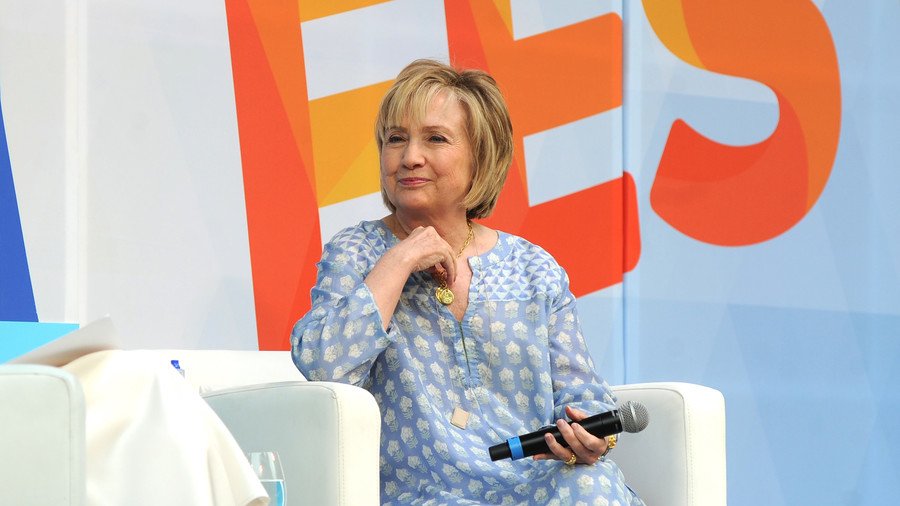 Hillary Clinton's health was again the subject of Twitter speculation, after she appeared at a festival last weekend wearing a necklace that looked suspiciously like a 'Life Alert' panic button.
Clinton was appearing at OZY Festival, a weekend event of music, food, political discussion and liberal 'comedy' in New York's Central Park. As well as rocking a Homer Simpson-style Hawaiian muumuu, the former Secretary of State wore a dull beige button on a necklace.
Eagle-eyed Twitter sleuths immediately came up with a theory: Clinton was wearing a 'Life Alert' panic button, used by pensioners to call the emergency services when they fall and can't get up.
Speaking at the Festival on Saturday, Clinton complained of being "exhausted," resisting Donald Trump's presidency. However, speculation about her ill health has been circulating since she took on Trump in 2016.
At a 9/11 memorial event in New York in September 2016, Clinton appeared to faint, wobbling on her feet before her security detail helped her into a waiting vehicle. At the time, Clinton said that she simply had "overheated," but it was later revealed that she had been suffering from pneumonia.
"They threw her in like she was a side of beef," said one law enforcement officer.
Since her shock loss at the ballot box that year, Clinton has strayed in and out of the limelight, publishing a book explaining the loss from her perspective, and bashing Trump in speeches and on Twitter.
Now, as her campaign team puts out a flurry of emails and Clinton makes more public appearances, speculation is mounting over whether the woman who looked like a shoo-in for 'Madam President' in 2016 will attempt to take on Trump again in 2020.
If that were to happen, questions about Clinton's health would be front and center this time around. Earlier this year, a video showing the one-time presidential contender falling down a set of stairs while on a visit to India, went viral. It wasn't the first time that Clinton has struggled with stairs, either. She tripped while walking onto an airplane to Yemen in 2011, falling at the top of the stairs; and struggled to climb up a small flight of stairs to a campaign event in South Carolina in 2016.
This spring, Clinton was spotted wearing a cumbersome overcoat and scarf while out and about in New York and, later, while on a global speaking tour, whatever the weather. A suspicious protrusion from the coat led some to believe that the 70-year-old was hiding a back brace.
Whether Clinton is masking deteriorating health or is simply the victim of a series of unfortunate accidents and wardrobe malfunctions, rumors will almost certainly continue to spread as long as she remains in the public eye.
Think your friends would be interested? Share this story!
You can share this story on social media: