Duped US lawmaker screams N-word, runs around butt-naked to scare off 'terrorist' Sacha Baron Cohen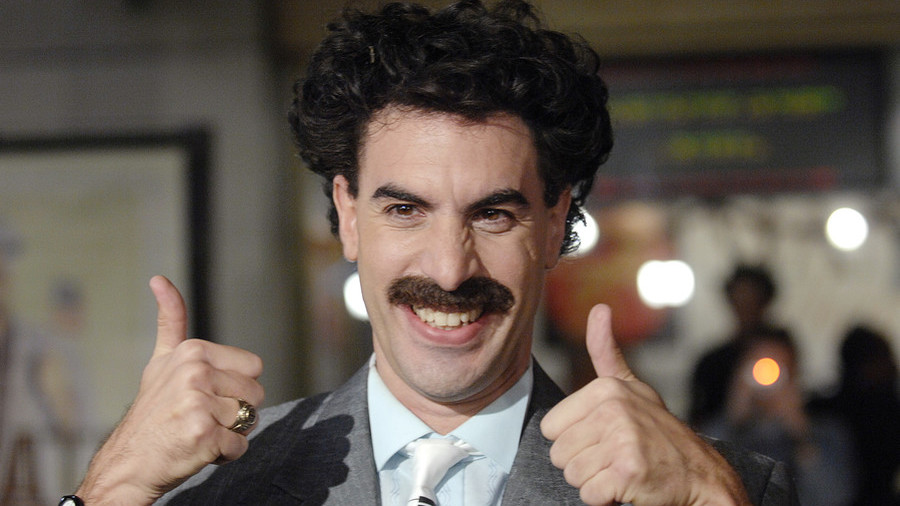 Duped into thinking he was being trained to repel terrorists, a Georgian lawmaker ran around with a bare butt trying to threaten British comedian Sacha Baron Cohen with "becoming a homosexual" – all the while being filmed for TV.
Rep. Jason Spencer (R-Woodbine) appeared on the controversial series 'Who Is America?' in which Cohen – of Borat fame – plays various different characters aiming to dupe public figures in fake interviews and with other comedic devices. In the latest episode, Spencer was fooled into believing Cohen was an Israeli terrorism expert and that he was taking part in a "real training video" for elected officials who could be "targeted by terrorists."
In the disturbing footage, the Georgia representative can be seen ranting about "sand n*ggers" from the Middle East before approaching a dummy terrorist with a knife and shouting "We will cut off your d*ck," before standing in front of the camera to state his name and job title.
Later in the clip, Spencer is seen pretending to be an Asian tourist, speaking fake Chinese and using a selfie stick to take an upskirt photograph of a mannequin dressed as a Muslim woman in an effort to see if it was actually a male terrorist posing as a woman wearing a burqa.
It gets even more surreal, however. Cohen then tells Spencer he will play the terrorist and gives the lawmaker "three seconds to attract attention" during a fake kidnapping. Spencer immediately begins to shout the word "n*gger" repeatedly while Cohen chases him around, pointing a finger at him like a gun.
In the most shocking piece of footage, Spencer pulls down his pants to reveal his bare butt, threatening "I'll touch you with my buttocks" and shouting "USA motherf*cker" after Cohen explains that touching a terrorist with his bare butt will turn the terrorist into a homosexual.
Spencer released a statement defending his appearance and behavior on the show, claiming that he was asked to shout "provocative language" and that he truly believed he was taking part in real training exercises. He also lashed out at Cohen, saying the makers of the show were attempting to "undermine the American conservative political movement."
It was not the first time Spencer caused controversy over racist remarks. In 2017, the conservative Republican told a black Democrat lawmaker that she and others who wanted Confederate statues and monuments to be removed from the state might "go missing" in a local swamp. "I can't guarantee you won't be met with torches but something a lot more definitive," he said.
You can share this story on social media: