Trump's support among Republicans hits record high despite media scorn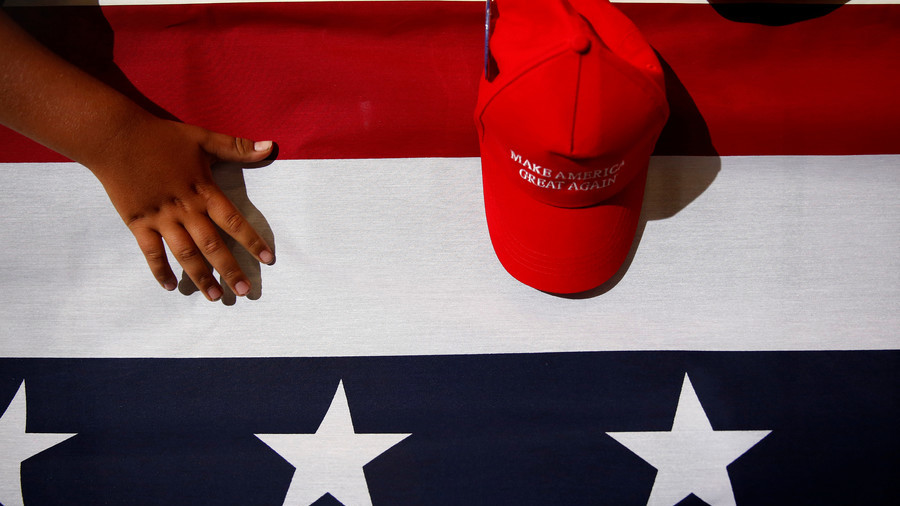 US President Donald Trump's approval rating among fellow GOP voters has soared through the roof, reaching 88 percent for the first time in his tenure. The three-day poll was conducted both before and after the Helsinki summit.
The newly released poll by NBC News/Wall Street Journal has found that controversies in recent months, including the enforcement and subsequent reversal of the "zero tolerance" immigration policy at the border, as well as Russiagate, have done nothing to erode support for Trump among his electoral base.
On the contrary, Trump's overall approval rating among Republicans has climbed higher than ever before in his presidency, reaching 88 percent, according to the poll that was conducted between July 15-18. Of the 88 percent, 64 percent told pollsters that they "strongly approve" of Trump's actions, while another 24 percent said they "somewhat approve" of the president.
Trump perpetually fails to win support from the majority of voters, with 45 percent of respondents approving of his performance, compared to 52 percent expressing disapproval, according to the July poll. However, he has still managed to set another record high. It is the first time that the number of those expressing "strong approval" for the real estate mogul-turned president has hit 29 percent overall.
The poll notes that Trump's strongest point in the eyes of respondents is the economy, as the US president's performance in this area was positively assessed by half of the respondents. Despite media backlash following the historic Singapore summit between Trump and North Korean leader Kim Jong-un, 44 percent of Americans still back Trump's efforts to ensure North Korea completely phases out its nuclear weapons program.
The US relationship with Moscow was the issue on which Trump scored least well, according to the poll, which shows that only 26 percent of the respondents approve of his Russia policy.
However, it is the treatment of migrant families at the border that invoked the most resounding criticism, with 58 percent expressing disapproval of the policy that saw migrant families being separated at the border. By comparison, 51 percent disproved of Trump's approach to Russia.
It is unclear whether or how the figures were affected by the Helsinki summit between Vladimir Putin and Donald Trump, as this meeting took place on July 16 – right in the middle of the three-day poll.
Subscribe to RT newsletter to get stories the mainstream media won't tell you.
You can share this story on social media: