Are US media outlets repentant about reporting on DNC emails alleged hacked by 'the Russians'? No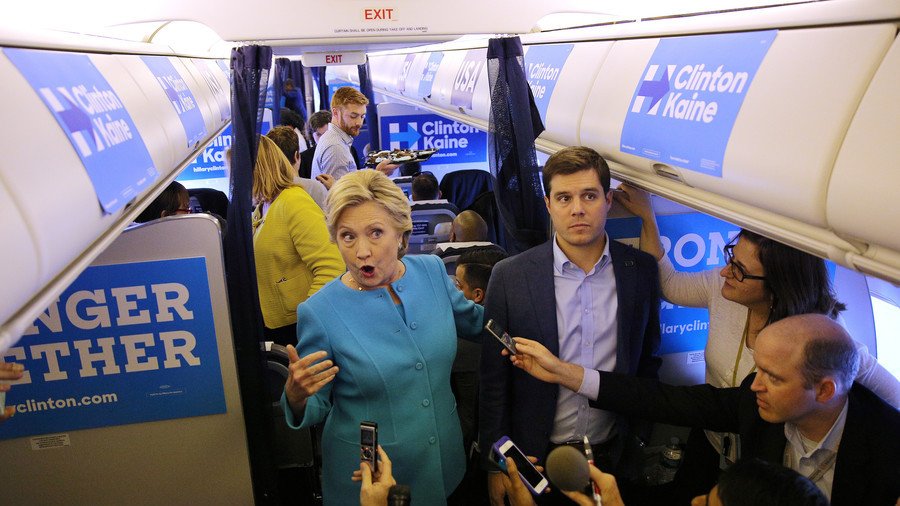 US media outlets have few regrets about reporting on the shady practices of the DNC, Hillary Clinton's private speeches, and other scoops revealed by emails allegedly leaked by Russian hackers, The Washington Post reports.
Erik Wemple, The Washington Post's media critic, decided to reach out to American news organizations after Neera Tanden, the president and CEO of the Soros-funded, Clinton-friendly Center for American Progress, accused "every reporter who gleefully trafficked in stolen emails via Wikileaks" of "abetting a crime – not illegal activity by itself but unethical and immoral."
The curious media critic posed an intriguing question to some of America's most prominent outlets: Do you have regrets about reporting on the email leaks, now that Robert Mueller has indicted 12 Russians for allegedly hacking into the DNC and other entities? Their answers – some more defensive and self-righteous than others – could best be summed up as: No, not really.
Nearly all of the outlets pointed to the fact that the leaked emails from the Democratic National Committee (DNC), the Democratic Congressional Campaign Committee (DCCC) and the Gmail account of Hillary Clinton campaign chairman John Podesta, contained information that the American people deserved to know.
"The stories that came from the emails were newsworthy. Not only Donna Brazile's question sharing, but the details of Hillary Clinton's speeches to Wall Street, speeches she had declined to make public," New York Times Executive Editor Dean Baquet wrote to Wemple. "Imagine if we had chosen not to publish those emails at the time, interesting details about a presidential candidate in the middle of an election. That would have been a political act."
Geoffrey Ingersoll, editor in chief of the Daily Caller, asked aloud whether journalism would even exist if newsrooms discarded leaks based solely on whether the source (alleged or known) had honourable intentions.
"If [the emails] are true and damning, do we ignore them because of the messenger? How much swampy oppo research fuels journalism for the betterment of democracy? Probably a lot, I would guessб" Ingersoll said. He then went on to point out that the media happily reported on salacious allegations leveled against Donald Trump by the 'Steele dossier' – even though the sensational document could not be verified and was compiled by retired UK intelligence officer Christopher Steele, who was paid $168,000 to do opposition research on Trump for Hillary Clinton's presidential campaign and the DNC.
"We were selective in publishing from the available emails. Our standard was whether they contained information genuinely relevant to voters," Washington Post Executive Editor Martin Baron said on behalf of her own paper. "Not publishing anything merely leaves a vacuum for others to fill, working with a lower standard or none at all. We published according to our standard, and we stand by our decision."
HuffPost's Washington bureau chief during the 2016 campaign, Ryan Grim, said that his website repeatedly pointed to allegations that Russia was behind the email leaks, but emphasized that any fallout from their contents had to be blamed on Clinton and Clinton alone.
"I don't quite understand the argument that you would ignore something newsworthy. … The excerpts from the [Clinton Wall Street] speeches were probably the most memorable things that surfaced," he wrote. "The irony is that was an own-goal from start to finish. The Clinton campaign certainly can complain that Russia hacked and dumped that material. But Russia didn't force her to give the speeches and Russia didn't force her to keep the speeches a secret."
Wemple's survey also put to bed the notion that the emails contained nothing newsworthy in them. "Just take the [former DNC chair Donna] Brazile situation: Revelations about her question-sharing shed light not only on a top DNC official but also on the role of cable-news networks in choosing presidential candidates and the penetration of news organizations by partisan pundits," he noted. "And we're supposed to pass up such a story?"
At the very least, Wemple has offered up a fresh take on who can – or should – read Wikileaks. After all, CNN's Chris Cuomo claimed in October 2016 that it was illegal for the public to read the leaked emails. This job, according to Cuomo, was reserved exclusively for trustworthy media outlets like CNN.
Of course, the notion that Russian hackers delivered the emails to Wikileaks is a completely unproven allegation – perhaps a fact that all the US outlets above continue to struggle with.
You can share this story on social media: