At least 11 killed, several missing after tourist boat capsizes on Missouri lake (VIDEO)
Published time: 20 Jul, 2018 02:48
Edited time: 20 Jul, 2018 11:11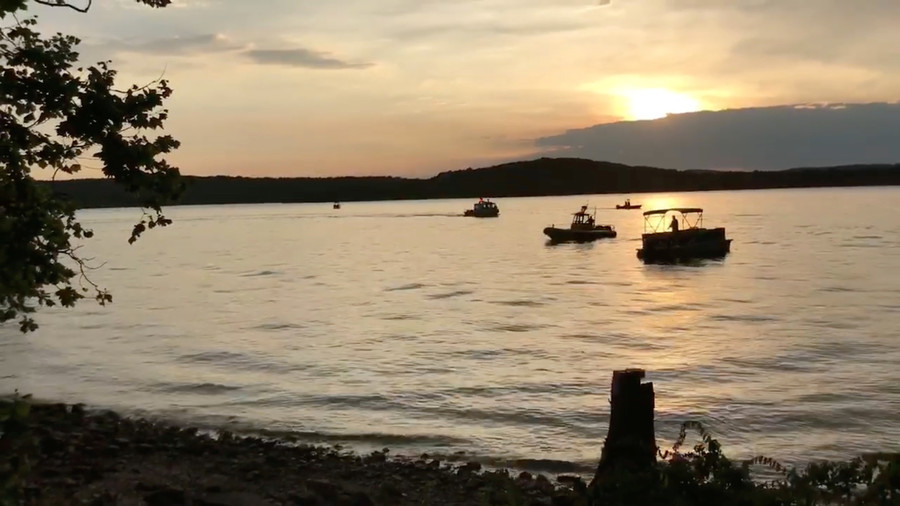 At least 11 people, including children, were killed and several remain unaccounted for after a tourist boat sank on a Missouri lake on Thursday, the local sheriff says.
The boat capsized and sank into the Table Rock Lake near Branson at about 8:00 pm ET, during strong 60mph winds caused by thunderstorms. It was carrying 31 people, including children. Seven people were rescued and hospitalized, Stone County Sheriff Doug Rader said, as cited by local outlet Springfield News-Leader. A search operation is ongoing for the rest.
The boat was one of two vessels on the way back to land at the moment of the incident and there were life vests on board, according to police. The sheriff also confirmed that children are among the fatalities, but did not elaborate on the exact number.
The capsizing was initially reported as a "mass casualty incident," and the first fatality count was only announced some two hours later.
Rescue efforts are continuing into the night with divers working on the scene.
The sunken vessel is a "duck boat" – a bus-like enclosed amphibious vehicle, used worldwide in sightseeing "duck tours." The one involved in Thursday's incident was operated by Ride The Ducks, a company based in Branson.