Nikki Haley calls Human Rights Council UN's 'greatest failure' in bid to justify US exit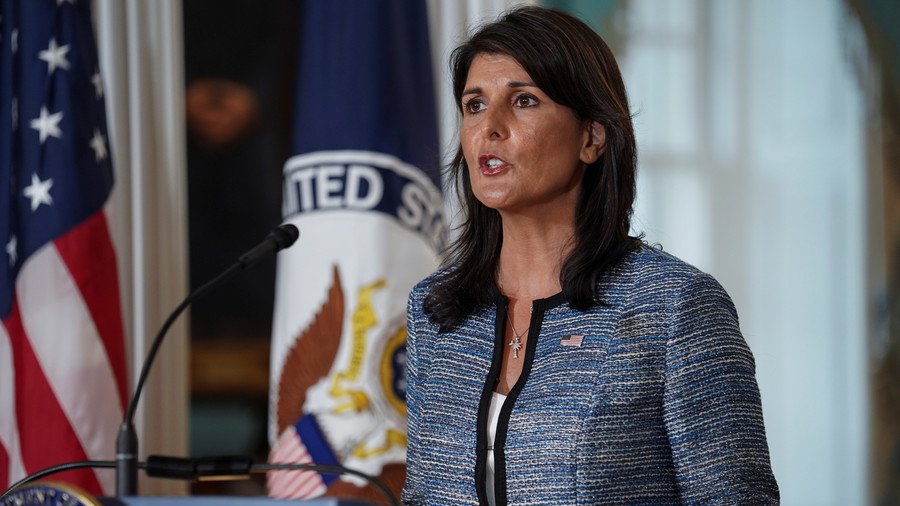 US Ambassador to the UN Nikki Haley has launched another attack on the UN human rights body, calling it a failure for listing such countries as China and Cuba among its members. She had no qualms about Saudi Arabia, though.
Haley was speaking at the Heritage Foundation think tank, explaining the reasons for the US withdrawal from the UN Human Rights Council, which had drawn almost unanimous condemnation, on Wednesday. She singled out Cuba, China and Venezuela as the countries whose presence supposedly tarnishes the council's credibility.
Pointing at the Council's membership criteria as one of its two major problems, along with its supposed bias against US ally Israel, Haley said that since she took office and up until now "its members included some of the worst human rights violators – the dictatorships of Cuba, China and Venezuela all have seats on the Council."
She took particular aim at Venezuela, slamming the council for inviting the Latin American country's President Nicolas Maduro, who she labelled a "dictator," to address the body in 2015. Haley said it was no wonder Maduro received a standing ovation, as "62 percent of Council members were not democracies."
Accusing the Council of being fixated on Israel, Haley argued that it turns a blind eye to the situation in Venezuela, Cuba and China. She also included Zimbabwe, which is not a member of the HRC.
"[The Human Rights Council] has focused its attention unfairly, and relentlessly on Israel meanwhile it ignored the misery, inflicted by regimes in Venezuela, Cuba, Zimbabwe and China."
She ultimately summed up her opinion of the UNHRC by branding it the UN's "greatest failure."
"Judging by how it has fallen short of its promise, the Human Rights Council is the UN's greatest failure. It has taken the idea of human dignity… and it has reduced it to just another instrument of international politics," she said.
Choosing the "undemocratic" UNHRC members to pick on, Haley preferred to step around Saudi Arabia, another major US ally, and its highly problematic record. The ultra-conservative kingdom has been embroiled in the bloodshed in Yemen, leading the three-year bombing campaign that resulted in numerous civilian casualties and prompted human rights activists to call for Saudi Prince Mohammed bin Salman's arrests for alleged war crimes.
In its recent report, Human Rights Watch said that at least 87 "apparently unlawful" raids were conducted by the Saudi-led coalition since the onset of the campaign that claimed about 1,000 civilian lives, destroying homes and civilian infrastructure. Internally, despite loosening some of its decades-old restrictions and allowing women to drive and go to stadiums, Riyadh continues its crackdown on dissent and is not in a hurry to abolish barriers that impede girls and women from making some basic decisions without the prior consent of a male relative.
The US formally announced its decision to quit the UNHRC in June, dismissing the international body as the "protector of human rights abuses and cesspool of political bias" for its criticism of Israel's clampdown on Palestinians. Its seat was taken by Iceland in a landslide vote in July.
Subscribe to RT newsletter to get stories the mainstream media won't tell you.
You can share this story on social media: