'No collusion, I didn't know Putin to collude with him': Trump says after talks in Helsinki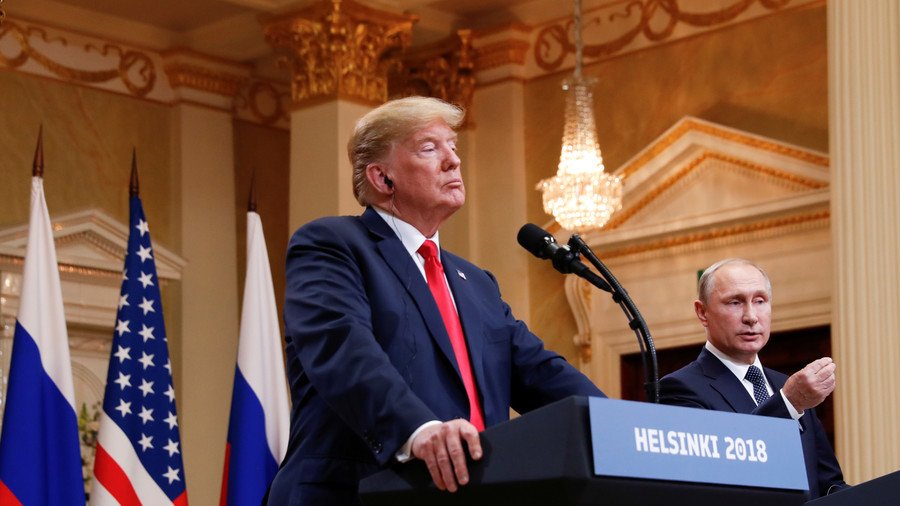 President Donald Trump hailed "deeply productive dialog" with his Russian counterpart Vladimir Putin, and asserted that there was no collusion between his campaign and Russia in 2016 while standing next to the Russian leader.
"There was no collusion," Trump told reporters. "I didn't know the President (Putin), there was nobody to collude with."
Trump has repeatedly denied accusations of 'Russian collusion,' but Monday's press conference marked the first time that the President has addressed the rumors alongside Putin.
"We ran a brilliant campaign, and that's why I'm president," Trump added. "I beat Hillary Clinton easily...and it's a shame that there could even be a little bit of a cloud over it."
Trump went on to blast proponents of the 'Russiagate' conspiracy theory for undermining the relationship between the world's two largest nuclear powers, and called White House Special Counsel Robert Mueller's ongoing and unsuccessful probe "ridiculous."
When asked about alleged collusion, Putin challenged reporters to show "one single piece of evidence" that Russia attempted to influence the 2016 election. He added that if Special Counsel Mueller were to send an official request, then both countries could launch a joint investigation into the collusion claims.
After Monday's meeting, Trump acknowledged that relations between the US and Russia have "never been worse," but added "that all changed about four hours ago," referencing his private meeting with the Russian President.
Addressing criticism of the meeting from commentators at home, Trump stated that he "would rather take a political risk in pursuit of peace, than risk peace in pursuit of politics."
The US president pledged to work together with Putin on areas of shared interest, including the denuclearization of the Korean Peninsula and the eradication of radical Islamic terrorism, with Trump stating "I'm sure we'll be meeting again in the future, often."

Trump made his comments following over two hours of the tete-a-tete meeting with Putin - a conversation that went on longer than the planned 90 minutes, and after a 'working lunch' with a full coterie of aides on both sides present, including State Secretary Mike Pompeo and Security Adviser John Bolton on the US side.
You can share this story on social media: