Kim Jong-un sends Trump 'a very nice note,' says nothing about denuclearization
Published time: 12 Jul, 2018 17:12
Edited time: 13 Jul, 2018 12:38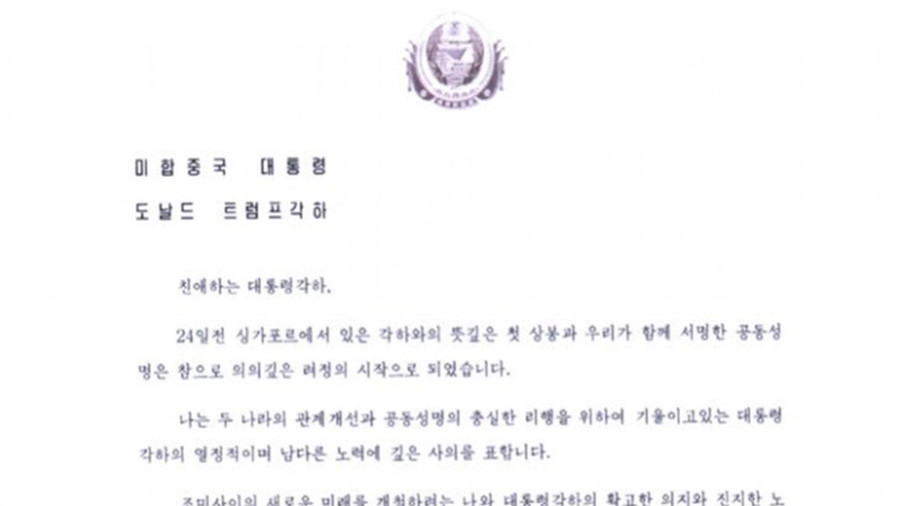 North Korean leader Kim-Jong-un has sent President Donald Trump a note expressing his satisfaction with last month's summit in Singapore, and his desire to meet again.
President Trump tweeted out the note, dated July 6, on Thursday. "A very nice note from Chairman Kim of North Korea," Trump said. "Great progress being made."
In the note, Kim addresses Trump formally, calling him "Your Excellency Mr. President," ( five times) and describes the June 12 meeting of the two leaders as "the start of a meaningful journey."
Coming after a year of Twitter taunts and nuclear brinkmanship, the meeting between Kim and Trump was historic, in that it was the first meeting between a US president and his North Korean counterpart.
At the summit, both leaders signed a declaration to work towards achieving peace on the Korean peninsula. Trump agreed to halt bi-annual US military exercises conducted with South Korean forces, while Kim made a vague commitment to denuclearization.
While the summit represented a major thaw in relations, US sanctions on North Korea, among the most stringent in the world, will remain in place until the Kim regime implements "final, fully verified denuclearization," US State Secretary Mike Pompeo said last week.
Several days previously, Pyongyang had slated the US for seeking unilateral and forced denuclearization from North Korea.
"The US is fatally mistaken if it went to the extent of regarding that the [Democratic People's Republic of Korea] would be compelled to accept, out of its patience, the demands reflecting its gangster-like mindset," Pyongyang cautioned.
Now, however, the mood in Pyongyang appears to be more conciliatory, with Kim keen for another meeting with Trump.
Speaking to Fox News about the possibility of a Kim visit to the White House, Trump said last month that such a visit "could happen," and added that he and Kim "had good chemistry." Kim is reportedly eyeing Switzerland as a potential venue for a second meeting, with North Korean diplomats sent to Bern, Davos, and Geneva last week to scope out hotels and conference centers, Kyodo reported.
"I extend my conviction that the epochal progress in promoting the DPRK-US relations will bring our next meeting forward," Kim concludes, using the abbreviation for the Democratic People's Republic of Korea, the North's official name.
Like this story? Share it with a friend!