Cop who declined to help Puerto Rican woman being harassed for 'un-American' T-shirt resigns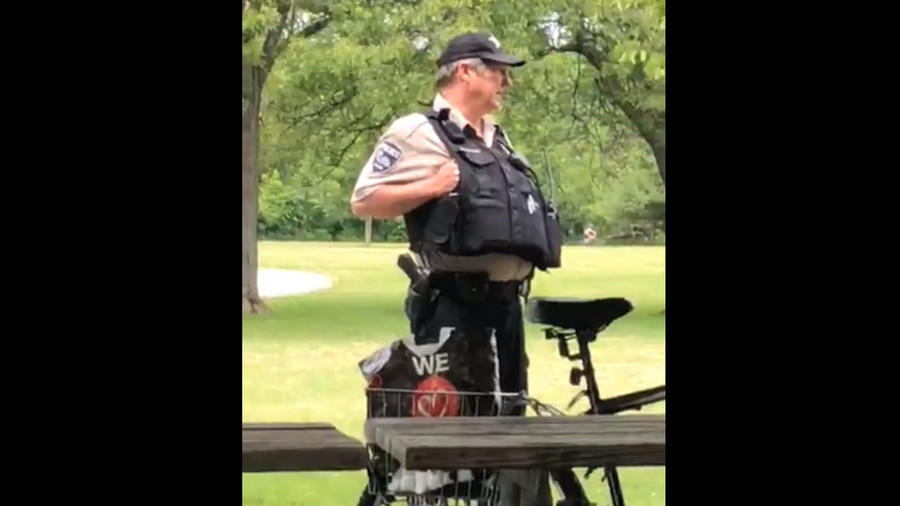 A Chicago police officer has resigned a month after a video of him standing by while an elderly man harassed a Puerto Rican woman for her "un-American" T-shirt went viral.
Officer Patrick Connor of the Forest Preserves of Cook County Police Department resigned late Wednesday, and the police department say they are continuing to investigate the incident.
In a video filmed last month that recently went viral, Connor can be seen standing by while an irate man harasses Mia Irizarry, who is dressed in a tank top with the Puerto Rican flag on it.
Seemingly unaware that Puerto Rico is in fact a US territory, the man proceeds to unload on Irizarry, calling her "un-American" and questioning her citizenship.
"I would like to know is she an American citizen? Why is she wearing that shit?" he says, temper rising. "You're not going to change us. The world is not going to change the United States of America. You should not be wearing that in the United States of America."
Irizarry called for help from Officer Connor, who declined to intervene, and instead milled around in the background. Eventually, other officers turned up and arrested the man, who they said was intoxicated. The man, identified as 62-year-old Timothy Trybus, was charged with assault.
Connor was placed on desk duty as an investigation began. Meanwhile, the video drew anger on Twitter, and the Governor of Puerto Rico joined the calls for Connor to be fired on Monday. Governor Ricardo Rossello said that he was "shocked and disturbed by the officer's behavior," and called Trybus a "bigot."
Like this story? Share it with a friend!