'Why is he picking on little kids?' Footage shows cop pointing gun at children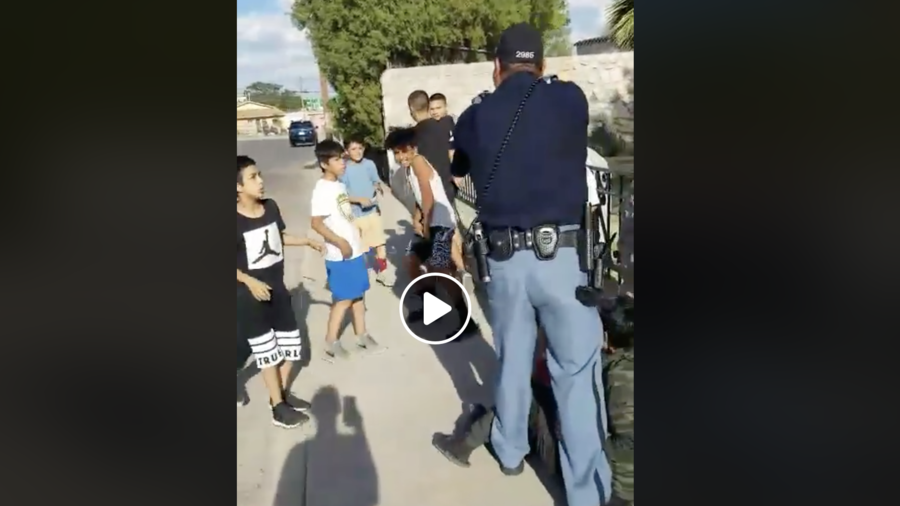 A video showing an El Paso policeman aiming his weapon at a group of young children while he was responding to a disturbance has gone viral, angering locals and people online over the cop's actions.
The footage, filmed by an eyewitness, shows the moment the unidentified law enforcement officer pointed his gun at local youths and ordered them to "back up" as he tried to detain a teenager. The incident unfolded on Thursday after police were called to a local recreation center over criminal trespassing.
In the video, the officer can also be seen extending a telescopic nightstick in an effort to disperse a number of boys who can be heard cursing at law enforcement. At one point, an adult woman, identified as one of the boys' mothers by KTSM news, can be heard shouting at the armed police officer to "do your job right." The same woman also asks: "Why is he [the officer] picking on little kids?"
"Somebody's going to end up dead one of these days… These are little kids but wait until they grow up, they'll give you a hard ass time," she adds. The footage, which contains expletives, has been viewed more than 4.4 million times on Facebook. An adult and a minor were arrested during the incident, reported the El Paso Times.
According to the El Paso Police Department, the Texas police officer had been called out to a report of criminal trespass in the neighborhood of Sambrano. The officer in question has now been confined to desk duties pending an investigation into his conduct.