Kitchen worker pulls gun on man who 'brutally' sucker-punched her colleague (VIDEO)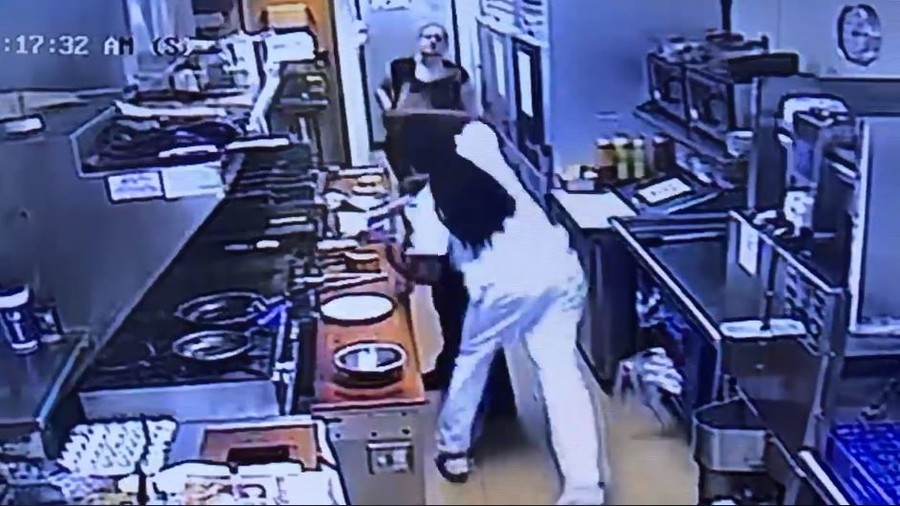 A Milwaukee politician is appealing for people to help track down a man who was filmed sucker-punching a restaurant worker in a "sickening" and "brutal" unprovoked attack.
Milwaukee Alderman Bob Donovan has released CCTV footage of the one-punch assault in a restaurant kitchen, and praised the actions of an armed staff member. He called for the at-large attacker to be brought to justice. Wisconsin is a 'conceal-and-carry' state, and the footage shows how a second staff member pulled a firearm on the attacker in an effort to make him flee.
READ MORE: 'Police brutality first hand': Shocking Austin arrest video sparks internal review (VIDEO)
"One can only imagine what might have occurred if that employee had not pulled out her weapon," Donovan said in a Facebook post.
"It is sickening to see this unsuspecting worker assaulted so brutally by this individual. It was an unprovoked attack and I'm asking asking anyone with information to contact the Milwaukee Police Department," he added. "I am tired of this crap happening."
The incident occurred at a George Webb diner restaurant on June 29. However, the attacker in the video has not been arrested by police, reported WTMJ-TV news. In the 18-second CCTV video shared by Donovan, a man dressed in a white t-shirt and pants is seen approaching two female workers in the kitchen before thumping one of the women in the face.
READ MORE: Proud Boy protester knocks antifa man out cold at Portland riot (VIDEO)
A staff member dressed in black then aims a firearm at the man and he is then seen exiting the room. RT.com has contacted Milwaukee Police Department for further details. However, it is reported in local media that the man is known to authorities.
Like this story? Share it with a friend!