'They're going out of business': Trump takes on New York Times, Washington Post
Published time: 7 Jul, 2018 21:13
Edited time: 9 Jul, 2018 10:31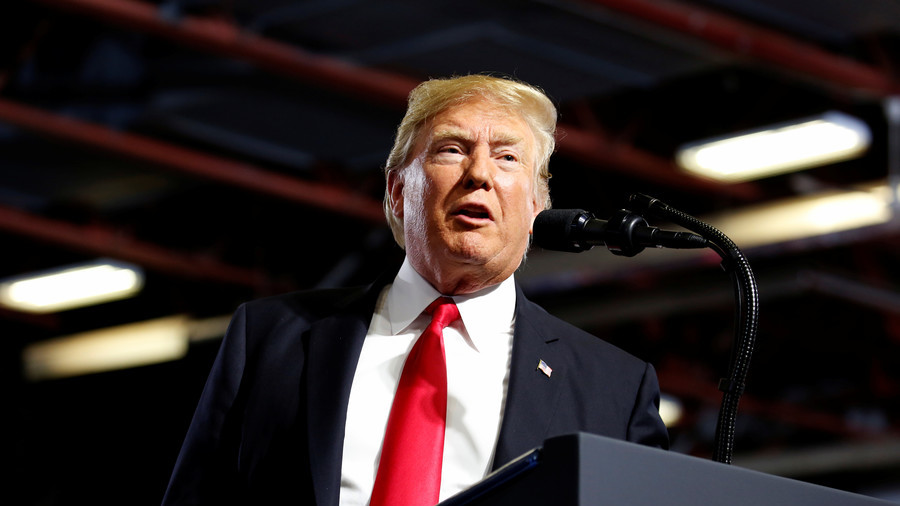 Twitter is cracking down on fake accounts - and Trump has suggestions as to which accounts to axe, accusing the New York Times and the Washington Post of peddling fake news. He added that both papers will shut within seven years.
With a full schedule on the horizon - the NATO summit in Brussels, a working visit to the UK and talks with Russian President Vladimir Putin in Helsinki - some may assume one of the most powerful men in the world would be busy preparing for the weeks ahead. Instead, the Don is posting on Twitter, taking aim at his favorite target - the media.
"Will that include the Failing New York Times and propaganda machine for Amazon, the Washington Post, who constantly quote anonymous sources that, in my opinion, don't exist. - They will both be out of business in 7 years!" he posted.
Trump has been up in arms against leakers over the last few months, accusing media of creating fake stories.
"They make the sources up," he said during a rally in Montana on Thursday. "They don't exist in many cases. These are really bad people… 75 percent of those people [journalists] are downright dishonest."
Since Trump was sworn in as president, the Washington Post and the New York Times have written a number of unflattering articles about the administration, citing anonymous sources. Leaks have also marred the Trump administration, with the most recent scandal resulting in federal prosecutors from the US Department of Justice seizing the email and phone records of New York Times journalist Ali Watkins after it came to light that she had been in a sexual relationship with Senate Intelligence Committee aide James A. Wolfe.
Lashing out at the papers "who constantly quote anonymous sources that, in my opinion, don't exist" caused thousands on social media to flare up in anger, clutching at the chance to criticize the president.
One Twitter account simply labelled the president's comments as "unbelievable," while others reminded him of his own use of anonymous sources.
Twitter has ramped up its efforts to remove fake accounts in recent months. According to the Washington Post, Twitter suspended more than 70 million suspected fake accounts in May and June.
Like this story? Share it with a friend!