'Hesitating' police officer's response to Mandalay Bay massacre under review (VIDEO)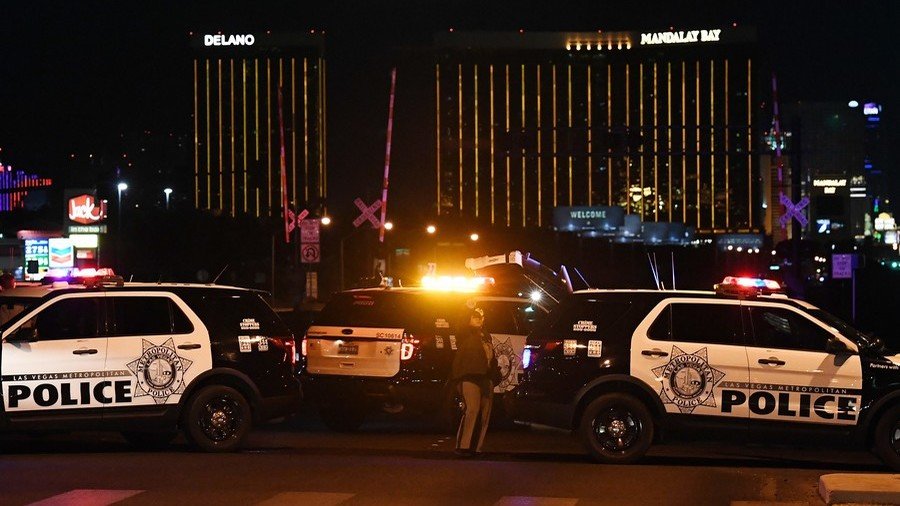 New footage showing police officers appearing to hesitate before confronting the Las Vegas gunman, Stephen Paddock, has prompted a review of the police response to the mass shooting.
Footage shows officers leaving an elevator in the Mandalay Bay Hotel one floor below the room from which Stephen Paddock gunned down 58 people. In the footage, released last week, the officers can be heard talking about a 131 incident, police code for a shooting.
Officer Cordell Hendrex is reportedly one of the first responders under review. The footage shows the veteran cop spending more than four minutes standing in a hallway, with his gun drawn, as Paddock fires rapidly from a window above.
READ MORE: Las Vegas shooting: At least 59 dead, over 500 injured in Mandalay Bay attack
"Holy shit that's rapid fire" and "oh my god," Hendrex can be heard to say, as he stands behind a wall in hallway listening to a police radio. An armed hotel security staff member can also be seen acting as back-up to the police presence.
Speaking to RT.com, police spokesperson officer Laura Meltzer confirmed that "every officer's actions that night are being evaluated."
"Part of that investigation is the evaluation of the performance, actions and conduct of every officer and civilian employee involved in the incident," she added.
In a written report of the massacre, Hendrex is on record as saying that he was "terrified with fear," reported CBS News.
The video of Hendrex and a Las Vegas police colleague at the Mandalay Bay Hotel is one of many pieces of footage showing the mass shooting as it unfolded on October 1. RT.com has contacted Las Vegas Metropolitan Police for comment but it has yet to receive a response.
Like this story? Share it with a friend!
You can share this story on social media: