'I'll kill you & chop up your family with an axe': Rand Paul death threat suspect arrested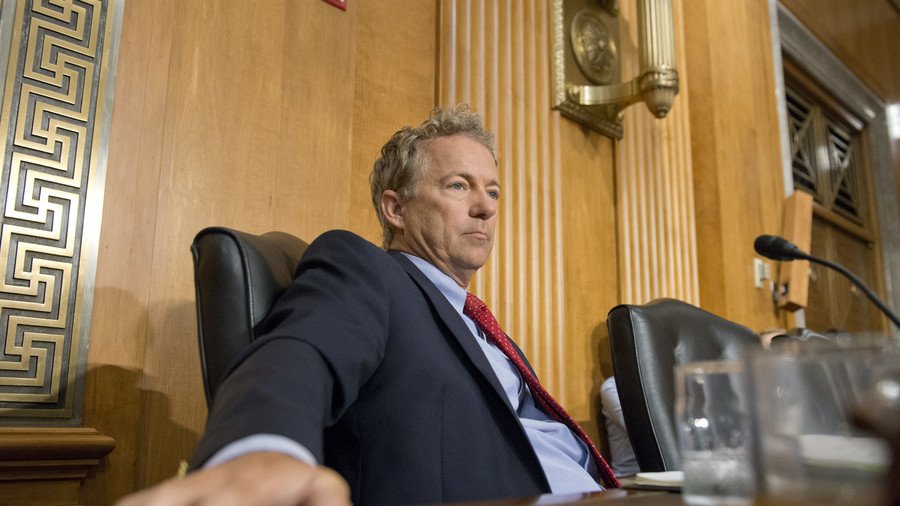 Rand Paul says US Capitol Police have arrested a man who threatened to murder the Republican senator from Kentucky and "chop up" his family "with an axe."
According to the Louisville Courier-Journal, the alleged perpetrator who is in police custody, made the threatening phone calls to Paul's Bowling Green office.
Thank you to the US Capitol Police for their arrest of the man who recently threatened to kill my family and me.

— Senator Rand Paul (@RandPaul) July 2, 2018
Capitol Police have declined to comment on the arrest as an investigation is ongoing. However, speaking to media at an event in Grayson County, Kentucky on Monday evening, Paul divulged that the threats involved murdering and chopping up Paul and his family with an axe.
"Capitol Police have issued an arrest warrant for a man who threatened to kill me and chop up my family with an axe," Paul said.
"It's just horrendous that we have to deal with things like this," he said, adding that he's "becoming more and more aware that we have these real threats out there. He was referring to several incidents in the last year where Paul was "attacked personally" on one occasion and "shot at" on another.
Sen Rand Paul describes threat from man who he says claimed he would chop up the senator's family w/ an axe. @RandPaul describes his thoughts w/ this happening months after being attacked in his yard & the baseball practice shooting. @WHAS11pic.twitter.com/xx581BlFj7

— Chris Williams (@chriswnews) July 2, 2018
In November 2017, Paul received injuries after a lawn-side fracas with a neighbor resulted in Paul breaking six ribs while he was out mowing his lawn.
The neighbor in question, Rene Boucher, tackled Paul due to a dispute over lawn debris. A registered Democrat, Boucher denied that the incident was politically motivated and that he simply had "had enough" of Paul's unsightly tree branches, sticks and leaves that were piled up along the property line.
After pleading guilty to the assault, Boucher was sentenced to 30 days in prison.
READ MORE:'Is that guy OK?' Moment gunman opened fire on GOP congressmen caught on camera (VIDEO)
In 2017 Paul was among a group of Republican lawmakers and staffers attending a baseball practice in Alexandria, Virginia, ahead of the annual Congressional Baseball Game, when they were ambushed by gunman James T Hodgkinson.
While Paul escaped the incident unscathed, five people including two police officers and Louisiana Republican Rep. Steve Scalise were hospitalized with for injuries. Hodgkinson was killed during the incident.
Like this story? Share it with a friend!
You can share this story on social media: