'Low point in US patriotism:' Number of 'extremely proud' Americans slips below 50% for first time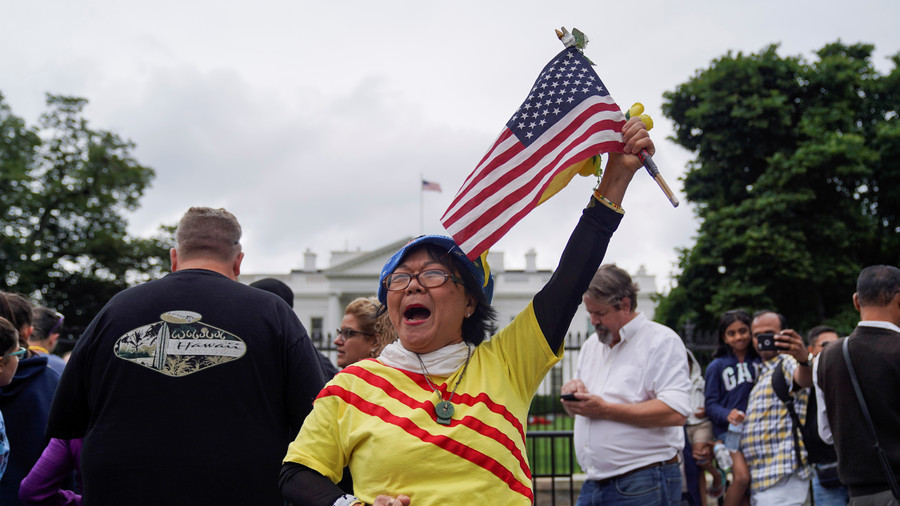 With politics and society increasingly divided, only 47 percent of US citizens polled say they're "extremely proud" to be Americans, the lowest number ever. The number of Republicans with this extreme pride is at a five-year high.
A new annual survey by Gallup, released on Monday, has highlighted widening political divide between Republicans and conservatives, on one side, and Democrats and liberals, on the other.
Only 32 percent of Democrats, and just 23 percent of political liberals have said that they are "extremely proud" to be Americans. This figure represents a sharp decline from last year, when 43 percent of Democrats considered themselves to be "extremely proud" of their nationality.
At the same time, while the percentage of "extremely proud" Democrats has continued to plummet since 2013, these numbers among the GOP supporters have risen for the third year in a row, reaching an impressive 74 percent this year, the highest overall over the last five years. Among the conservatives the number is almost as high, reaching 65 percent.
However, the strong patriotic feelings voiced by the Republican respondents did not make up for the lack of those among the Democratic Party supporters, who took part in the Gallup poll, which was conducted between June 1- 13.
Overall, only 47 percent, the lowest number ever recorded during the 18-year history of this measurement, have said they are "extremely proud" to call themselves Americans.
While Gallup points out that the upcoming 4th of July "marks a low point in US patriotism," the statistics, while quite damning on the surface, does not mean that the majority of Americans no longer cherish their country – it is the extent that matters.
Another 25 percent have said they are "very proud" to be Americans, while a further 16 percent of those surveyed included themselves into the "moderately proud" category. 72 percent of "very" and "extremely" proud Americans have also broken a record at their lowest point ever.
Besides political affiliation and preferences, gender, race and age play a crucial role in one's attitude to the country.
For instance, the number of women who are extremely proud to be an American has dropped from 50 percent last year to 44pc this year. The same trend can be spotted among the non-white population, where the decrease amounts to 11 percentage points, from 44pc to 33pc this year. Young people (18 to 29), who, along with the former two groups, are mostly left-leaning, also began to feel less proud being Americans, with a drop from 43 to 33 percent.
On the other hand, more middle-aged Americans have an improved opinion of their country, as six percent more are proud to be an American in 2018 than in last year (56-50pc).
Purporting to explain the overall slump in patriotism, Gallup has noted that "politics appears to be a factor, with sharp declines evident among Democrats and political liberals and no decrease among Republicans and conservatives."
The overwhelming partisanship in US politics and a distaste by left-leaning persons for Donald Trump has contributed to the trend.
"Left-leaning groups' antipathy toward Donald Trump and their belief that other countries look unfavorably on the president are likely factors in their decline in patriotism, particularly the sharp drops in the past year," it said, noting, however, that "the declines began before Trump was elected."