'Fake news a new standard, media drunk on hatred': Yiannopoulos explains 'gun journos down' prank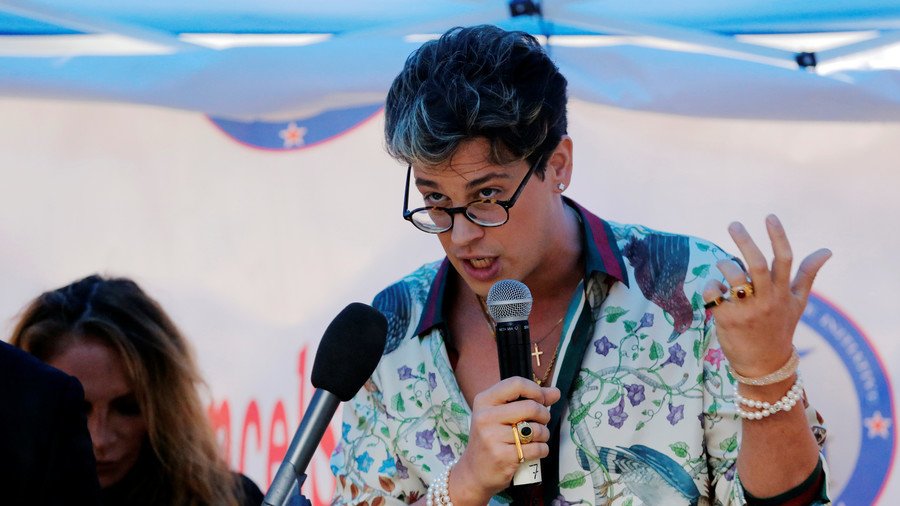 Right-wing provocateur Milo Yiannopoulos told RT the threatening messages he sent to reporters asking for comment were a prank designed to "feed the media bait," berating the media for "knowingly publishing" fake news.
"I can't wait for the vigilante squads to start gunning journalists down on sight," Yiannopoulos told the Observer, when the newspaper contacted him for comment on a story about a New York restaurant he apparently frequents.
He later issued the same response to The Daily Beast's Will Sommer, who was penning an article on Yiannopoulos and a cohort of right-wing and pro-free speech YouTube figures joining the UK Independence Party (UKIP).
In an email to RT, Yiannopoulos confirmed his remark was facetious, saying that mainstream media outlets reporting it as a genuine call for violence "fell for it again."
"Knowingly publishing false allegations and fake news is now standard operating procedure for journalists, who believe that no professional sin is too grave in the fight against conservatives," Yiannopoulos wrote.
"But it isn't working: thousands of readers contacted me yesterday to join in my amusement at how easy it is to feed the media bait," the former Breitbart editor added.
The mainstream media and left-wing Twitter gobbled up Yiannopoulos' comments, reporting the story with stone-faced sincerity.
"I used to think journalists were simply unintelligent. Now I realize they are demented, drunk on rage and hatred. And I'm loving it!" Yiannopoulos mocked.
Along with his fellow new UKIP members, Yiannopoulos has been frequently labeled in the media as a member of the 'alt-right', a nebulous term most commonly used to describe racist and ultra-nationalist figures on the political right. Yiannopoulos denies the association.
Yiannopoulos, who once described himself as a "dangerous faggot," has a long and chequered career of making flamboyant statements to hit back at 'outrage culture' and steal column inches. In his time at Breitbart, Yiannopoulos penned headlines like "Muslims will bring 'lamb chops, yoghurt and gang-rape to America," and "Birth control makes women unattractive and crazy."
Once an in-demand speaker on college campuses, Yiannopoulos' career took a nosedive, after recordings of him allegedly advocating pedophilia surfaced last year. He resigned from Breitbart, and was dropped by his publisher shortly afterwards, temporarily halting the release of his book, 'Dangerous'.
Milo's trolling continued, however, and last week he bragged on Instagram about donating $14.88 to former New Yorker writer and fact-checker Talia Lavin, who recently resigned after she falsely accused an Immigration and Customs Enforcement (ICE) agent of having a Nazi tattoo on his arm. Both Yiannopoulos and Lavin are Jewish, with Milo claiming his ancestry via his maternal grandmother.
If you like this story, share it with a friend!
You can share this story on social media: