Restaurant owner kicks Sarah Sanders out, sparks online review war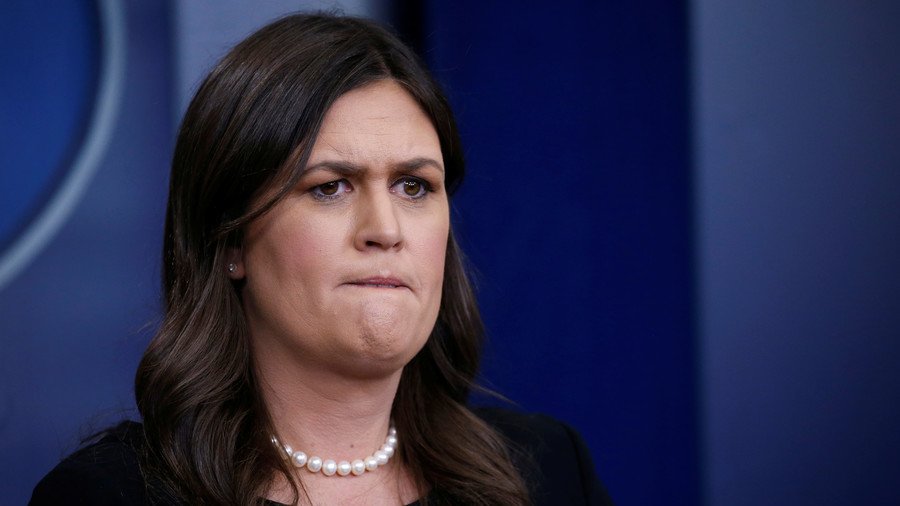 White House Press Secretary Sarah Huckabee Sanders and her family were kicked out of a restaurant in Virginia on Friday, sparking a raging battle of one- and five-star reviews for the premises online from vying political factions.
"I just served Sarah huckabee sanders for a total of 2 minutes before my owner kicked her out along with 7 of her other family members," Red Hen restaurant waiter Jaike Foley-Schultz wrote on Facebook. His post was shared on Twitter along with a note seemingly from the restaurant which included the words "86 - Sarah Huckabee Sanders." The term '86' is used in restaurants to mean refuse service or throw something out.
Sanders confirmed the incident on Twitter on Saturday.
Last night I was told by the owner of Red Hen in Lexington, VA to leave because I work for @POTUS and I politely left. Her actions say far more about her than about me. I always do my best to treat people, including those I disagree with, respectfully and will continue to do so

— Sarah Sanders (@PressSec) June 23, 2018
As news of the expulsion spread, the restaurant's Facebook and Yelp pages were inundated with reviews that either commended the establishment for booting the press secretary out, or derided it for going against President Donald Trump.
"Kick her out if you like, TRUMP is still your president," one Facebook commenter said.
"Everyone in this country needs to take a stand, and I stand with the owner of this establishment," said another. "I wouldn't allow anyone from this administration in my business or home either."
It's about time she be held accountable for all her lies and her bullying attitude. People are fed up and the revolt is happening

— greg_munro ❄️ (@greg_munro) June 23, 2018
If I lived in VA I would be the first person to boycott this restaurant. So sorry for the rudeness you have to endure.

— Carol Formato (@CarolFormato) June 23, 2018
Bigotry. On the menu at Red Hen Restaurant in Lexington VA. Or you can ask for the "Hate Plate". And appetizers are "small plates for small minds" https://t.co/rHEVdcQwwh

— Gov. Mike Huckabee (@GovMikeHuckabee) June 23, 2018
Sanders' father and former Governor of Arkansas Mike Huckabee accused the restaurant of intolerance, tweeting, "Bigotry. On the menu at Red Hen Restaurant in Lexington VA."
Earlier this week, Homeland Security Secretary Kirstjen Nielsen was chased out of a Mexican restaurant in Washington DC by angry patrons over the administration's controversial 'zero tolerance' illegal immigration policy that sees children separated from their parents. Trump adviser Stephen Miller, thought to be the architect of the policy, was also heckled and called a fascist whilst dining in a different Mexican restaurant in Washington DC last Sunday.
READ MORE: Homeland Security chief chased out of Mexican restaurant amid immigration uproar (VIDEO)
Trump has since signed an executive order claiming to end the practice by keeping families in detention together.
If you like this story, share it with a friend!
You can share this story on social media: