Trump decries 'fake news' after ABC says ex-campaign manager 'pleading guilty of manslaughter'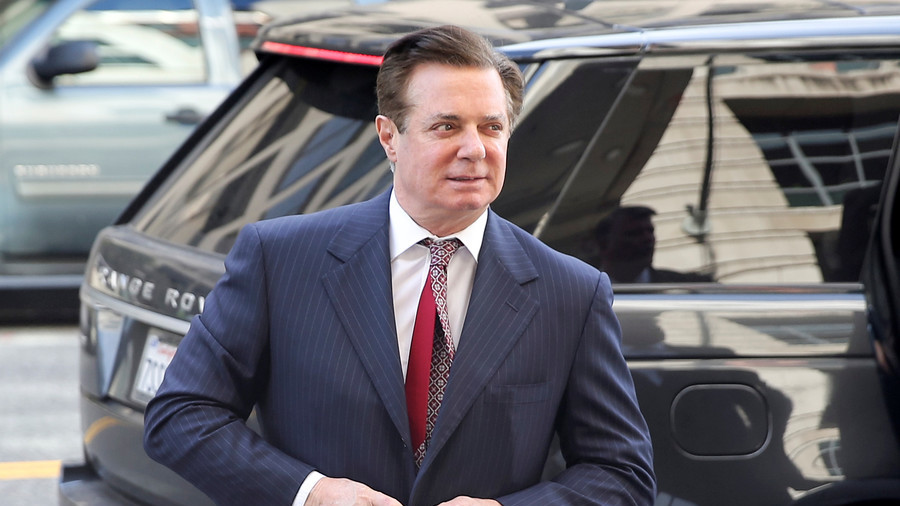 ABC News was forced to issue a retraction after it aired graphics that falsely claimed US President Donald Trump's disgraced former campaign manager, Paul Manafort, pleaded guilty to five counts of manslaughter.
Manafort, who has been held in jail since last week over alleged attempted witness tampering, was thrust into the spotlight again on Wednesday after ABC accidentally added 'manslaughter' to his list of charges, none of which are violence-related.
The broadcaster aired the erroneous onscreen graphics that read "Manafort pleads guilty to 5 charges of manslaughter" during its special report on Trump's immigration policy.
While the stunning news only appeared for several seconds, it was enough for the Twittersphere to spot the mistake.
While some appeared to be genially bemused, the majority did not take the blunder at face value, and a barrage of online mockery ensued.
The flub did not escape the attention of the 'Twitterer-in-chief' himself, who saw it as an opportunity to bash the investigative team of FBI Special Counsel Robert Mueller. The probe was tasked with finding evidence of Trump campaign's alleged connection with Russia, but it has so far failed to make a case against the US president.
"Look what Fake ABC News put out. I guess they had it prepared from the 13 Angry Democrats leading the Witch Hunt!" Trump tweeted, referring to the investigation.
As the bungle gained traction on social media, ABC News apologized, saying they are looking into "how incorrect information was in our system and how and why it was allowed to air." The broadcaster personally apologized to Manafort, stating that "there simply is no excuse for this sort of mistake."
Theories immediately started swirling as to how the incredulous report made it to the air. Some suggested that ABC's mistake was no mistake at all, speculating that the broadcaster was just foreshadowing the events to come.
Other argued that the blunder might have been made on purpose to further tarnish the reputation of Trump's former ally and, by extension, the president himself.
Some argued that a simple apology from the broadcaster was not enough and that Manafort should sue ABC for slander.
The majority, however, just had a good laugh off the situation.
Last week, US District Judge Amy Berman revoked bail conditions for Manafort, sending him to await his criminal trial in jail. This came after Mueller alleged that Manafort, while under home arrest, attempted to persuade witnesses in his case to give false statements. At the time, Trump slammed the move as "a tough sentence" and "very unfair."
Manafort's case serves as one of the pillars of "Russiagate" expectations, despite his charges being completely unrelated to the initial purpose of the Mueller probe. He was indicted in Virginia on tax and bank fraud charges dating back to 2005 and 2007 and in Washington, DC on charges of failing to formally declare his lobbying efforts for the Ukrainian government between 2006 and 2015. Pundits of the theory that the Trump campaign colluded with Russia believe that he could have been an intermediary – despite him advocating policies that arguably ran contrary to Moscow's interest during his lobbying stint for the Ukrainian government.
If you like this story, share it with a friend!