'Americans should be true to their constitution & stop persecution of Julian Assange'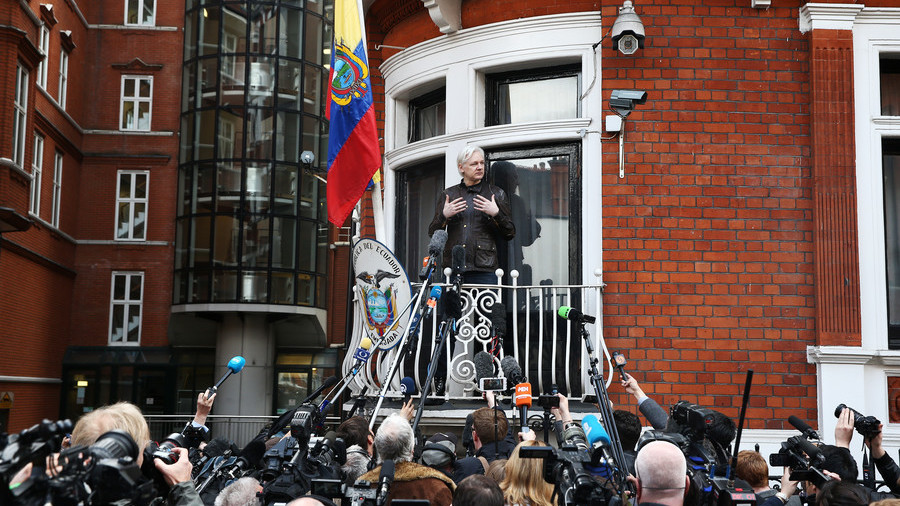 It is extraordinary that a country which historically claimed to be the champion of free speech seeks political persecution against an editor who published information of enormous public interest, author Craig Murray has told RT.
It has been six years since WikiLeaks founder Julian Assange entered the Ecuadorian Embassy in London and he hasn't left since.
Assange sought refuge there to avoid being extradited to Sweden over sexual assault allegations, in a case later dropped. But he is still a wanted man in the US on espionage charges.
RT discussed Assange's plight with Craig Murray, an author, broadcaster and human rights activist.
In his opinion, there are two different angles in Julian Assange's case: "The first one is the legal one and the second one is the political and diplomatic one. On the legal side, appeals continue to be held on the question of whether or not charges against him are dropped."
He added that "it remains reasonable for the British government to seek to arrest him on bail charges relating to an offense which is no longer being prosecuted. That legal avenue remains open."
On the diplomatic side, Murray said, "what we are seeing is extremely shameful."
"We are seeing pressure being built to bear on Ecuador by the US, by Spain and by various neo-conservative motivated countries in order to silence and potentially imprison one of the great editors and journalists of our time who has contributed massively to public knowledge - and in so doing embarrassed governments across the world," he said.
Murray believes this is a time of deep sorrow because "we remain in this impasse."
Julian Assange's lawyer Jennifer Robinson said on February that the risk of his extradition to the US remains real. Murray also agrees that all the signs indicate that the US intends to extradite the WikiLeaks founder, the moment he leaves the embassy, on charges of espionage.
"It is quite extraordinary that somebody who is a publisher, an editor who has simply published information of enormous public interest, put it in public domain, that a country which historically has claimed to be the champion of free speech seeks to bring this kind of highly political persecution against the publisher and editor," he continued.
In Murray's opinion, "it behooves the Americans to be true to their Constitution and to try to stop this persecution." He added that he would like to see an action at executive level by the President Trump and at the administrative level by the officials below him "who are in the position to act in Attorney General's office, for example, in order to cease this political persecution."
Asked about the legal options remaining for Assange to one day leave the embassy and not fear for what comes next, Murray said he expects to see quite profound societal changes in the West.
"WikiLeaks itself came to prominence because of the profound societal change that public access to the internet, to new media and alternative sources of information, built into the ability for whistleblowers to make knowledge, of government wrongdoing and misdeeds, widely available to the public in a way that wasn't possible when the only real source of mass dissemination was corporate and state media.
"And that kind of societal change continues and I think eventually will lead to the state of society where Julian will be valued and able to operate freely. How long it will take? I can't exactly tell you," he said.
In late March the Ecuadorian government cut off Assange's internet connection. Murray expressed hope that Ecuador will recover some of the courage it showed the past and will not continue imposing this openly political censorship upon Assange.