'Germany crime up due to immigration,' Trump tweets, and media go into frenzy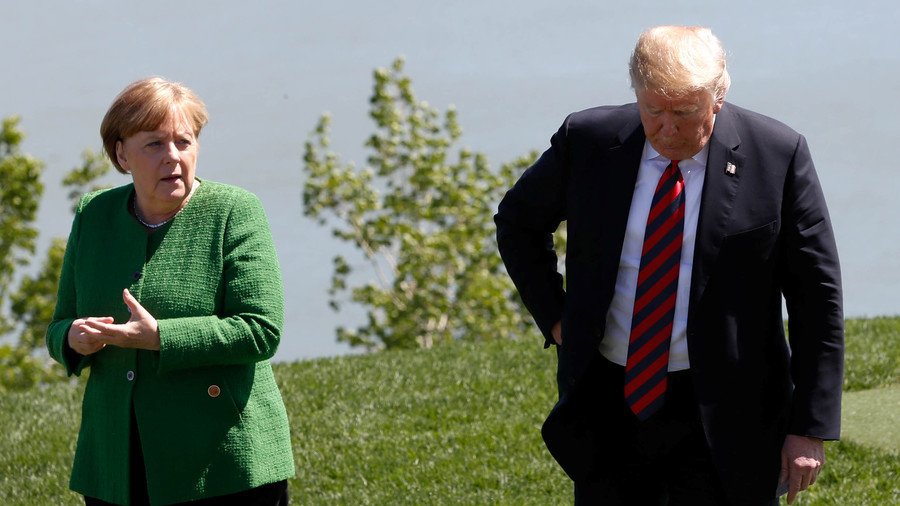 Donald Trump's opponents and the media have lambasted the president and accused him of lying, after he made a series of tweets savaging German Chancellor Angela Merkel's immigration policy and calling for tougher laws at home.
"The people of Germany are turning against their leadership as migration is rocking the already tenuous Berlin coalition. Crime in Germany is way up. Big mistake made all over Europe in allowing millions of people in who have so strongly and violently changed their culture!" Trump tweeted on Monday, criticizing Merkel's 'open-door' policy that saw almost two million predominantly Muslim migrants flood Germany since 2014.
The mainstream media pounced on Trump immediately, accusing the President of lying. Crime, they argued, is in fact way down in Germany. According to government statistics, crime in Germany fell almost 10 percent last year, reaching its lowest level since 1992.
"We're actually doing fine, thanks" quipped the English-language version of the German government news network Deutsche Welle.
The New York Times rushed in to point out Trump's claim was false – as did Vox, The Hill, and CNN's Brian Stelter, who bashed the president for "misleading the public."
Trump's critics also blasted him for playing on divisions in Merkel's government. The German chancellor's grand coalition was shaken after Interior Minister Horst Seehofer unveiled a new strategy that would allow German authorities to turn back refugees at its borders if they have already applied for asylum in other EU countries. Chancellor Merkel opposed the proposal, saying Berlin can't unilaterally shut its borders without consulting with its European neighbors.
Some German journalists also dissected Trump's assumption that Merkel's standing may be in peril over her immigration policies. Everything is fine in Germany, they say, and the chancellor is sitting pretty at a 50 percent approval rating, a hair above Trump's 48 percent rating at home.
Some in the conspiratorial #resistance corner of Twitter saw Trump's tweet was nothing less than an insidious ploy to bolster the German right and topple Merkel.
Trump's critics may have been technically correct to point out the inaccuracies in his tweet about crime figures, but they are not telling the full truth either. While overall crime figures may have reached an almost three-decade low in Germany, violent crime seems to be on the rise. A university study published earlier this year found that violent crime rose by about 10 percent in 2015 and 2016, with 90 percent of that crime attributed to young male refugees.
Deutsche Welle's article fails to mention this trend, but quotes the same study as saying Iraqi and Syrian refugees in Germany are less likely to commit crimes. This is true, but only when those groups are compared to migrants from North Africa, who committed 17 percent of violent crimes recorded in the German state of Lower Saxony in those two years, despite making up less than one percent of the migrant population.
None of this has stopped people from comparing Trump to Hitler.
Like this story? Share it with a friend!
You can share this story on social media: