Former CIA chief likens Trump immigration policies to Nazi Germany, faces backlash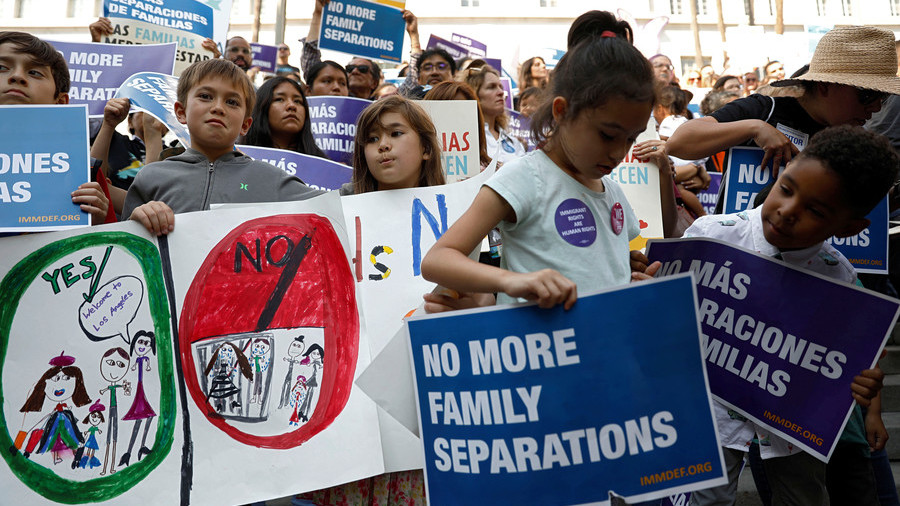 After a significant backlash, former CIA Director Michael Hayden has defended his tweet likening US President Donald Trump's immigration policies to Nazi Germany – comparing Trump's cult of power to that of der Fuhrer.
Hayden tweeted a photograph of Nazi concentration camp Auschwitz-Birkenau with the words, "Other governments have separated mothers and children," over the weekend.
The tweet came in the midst of a heated debate surrounding Trump's 'zero tolerance' immigration policy, which has seen parents who illegally cross the border into the US prosecuted and separated from their children.
The tweet sparked a flood of reaction on social media, with many people accusing the former CIA director of being offensive. "How to cheapen the memory of the Nazi effort to kill all Jews," Dr. Petra Marquardt-Bigman said.
Another commenter said: "My grandparents rode down those damned tracks. What the government here is doing, right or wrong, has No comparison to what Hitler did. Stop doing this."
1. This is crazy, offensive, and stupid. 2. Obama's intelligence chiefs are turning out to be rabid partisans. These are the same people, we are told, who made totally objective assessments re: Trump & Russia. One could note: other governments have spied on political opponents. https://t.co/XY2WcHHQBh

— Joel B. Pollak (@joelpollak) June 17, 2018
Hayden, who also headed the National Security Agency under Bill Clinton and George W Bush, appeared on CNN Monday to defend his tweet. He said he chose the image very carefully, as it depicts the spot where families were separated upon reaching the Nazi death camp.
"Now look, I know we're not Nazi Germany, alright? But there is a commonality there and a fear on my part that we have standards we have to live up to," Hayden told New Day host John Berman.
"I was trying to point out we need be careful not to move in that direction," he added.
Hayden went further with his comparison, reminding Berman of what it was like in Germany when Hitler rose to power. "And in 1933, what did we see in Germany? A cult of personality, a cult of nationalism, a cult of grievance, a press operation that looked like and was the ministry of propaganda and then the punishing of marginalized groups."
"If I overachieved by comparing it to Birkenau, I apologize to anyone who may have felt offended," he said.
Like this story? Share it with a friend!