Rollercoaster riders dangle 30ft above ground after horrifying derailment (PHOTOS, VIDEOS)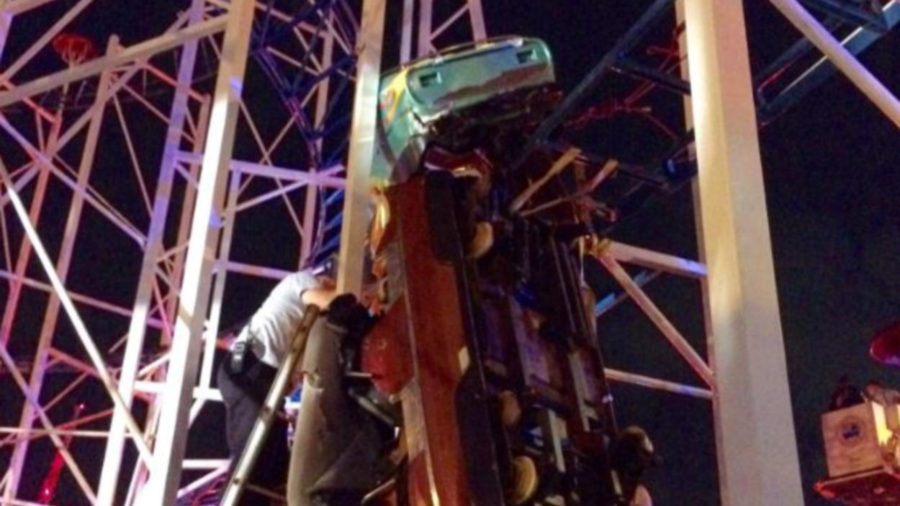 Two people were thrown more than 30ft to the ground while several others were left dangling mid-air after a rollercoaster derailed in Florida.
The terrifying incident happened at the amusement park on Daytona Beach Boardwalk, Thursday night, as passengers were riding the 85ft high Sand Blaster, according to ClickOrlando.
The rollercoaster went off the tracks, leaving three connecting cars dangling off the rail. Two riders fell right out of the front carriage, while 10 more were left hanging some 34ft above the ground.
Footage and images of the dramatic rescue were posted by the local fire department. The stricken riders can be seen dangling as crews use a ladder truck to reach those trapped inside.
Six people were taken to hospital following the traumatic incident, but details of their injuries are not yet known.
Daytona Beach Fire Department spokeswoman Sasha Staton commended the rescue team for bringing the "10 very frightened passengers" to safety. "They were faced with dangerous conditions as they worked as fast as possible to successfully extricate everyone safely," she told the Daytona Beach News Journal.
Think your friends would be interested? Share this story!