Migrant kids could be held in US military bases at Mexico border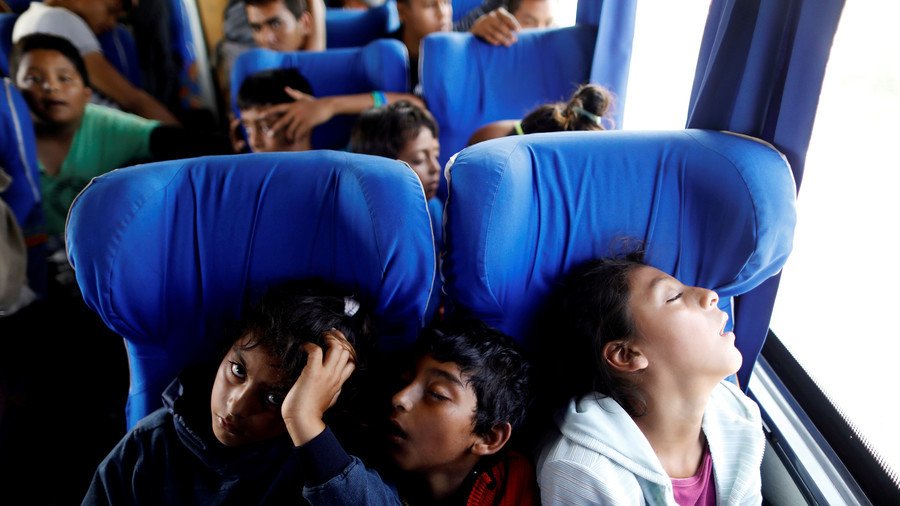 US military bases could soon be used as holding facilities for migrant children that have been separated from their parents at the southern border under the Trump administration's "zero tolerance" immigration policies.
Officials from the US Department of Health and Human Services are planning to tour a number of military installations near the border in Texas in an effort to source more space to house children waiting for placements with sponsor families, NBC reported.
The installations under consideration are the Dyess Air Force Base, the Goodfellow Air Force Base, and Fort Bliss, a HHS spokesperson said.
Currently, hundreds of children are in custody at border stations in temporary facilities, which are known to lack adequate sleeping space and bedding – and nearly half of the children being held are under 12-years old.
According to HHS, which is responsible for accommodating the children with foster parents or relatives, it takes 45 days on average to find a sponsor.
The American Immigration Lawyers Association (AILA) has criticized the holding of children in temporary facilities as "highly inappropriate and even unsafe" due to the lack of adequate medical and nutritional resources.
"It would place these children at risk of harm if they are housed with adults without the proper privacy that children should have," Greg Chen, director of government relations with AILA, told NBC.
The zero-tolerance policies came into play in May and mean that any adult entering the US illegally will be prosecuted and any who enter with children will be separated from them while awaiting legal action.
The UN this week criticized US President Donald Trump administration's policies, saying that the US was "criminalizing what should be an administrative offense" and that the use of immigration "detention and family separation as a deterrent runs counter to human rights standards and principles."
On Tuesday, Trump himself hit back on Twitter, accusing Democrats of causing the problem due to failure to enact tougher border security laws.
Last month, US Attorney General Jeff Sessions said that if a person was going to smuggle a child into the US, they should prepare to be prosecuted. "If you don't like that, then don't smuggle children over our border," he said.
Peter Boogaard, a former Obama administration official, said that the situation was as a result of "total lack of planning or forethought" when it comes to the zero-tolerance policies implemented by the Trump White House. "They didn't think this through at all – what it would mean for kids, for their parents and for the operational challenges," he said.
However, inhumane immigration policies have not first appeared under Trump. Photographs showing migrant children being held in cages were recently spread on Twitter, with many criticizing the current administration for its cruel policies. It later emerged, however, that the photograph was taken in 2014 when Barack Obama was in office.
You can share this story on social media: